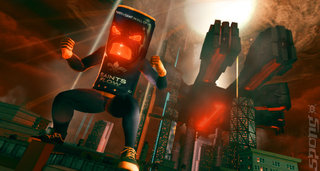 Don't go sounding the death toll for THQ's 2014 release schedule just yet! The publisher appears to have registered new website domains for the next Saints Row title, along with a mysterious '1666' project that was first unearthed in trademark applications back in March.
EnterThe Dominatrix.com and IAmSaintsRow.com are the registered domains that, obviously, point to a new
Saints Row
project. Remember that Enter the Dominatrix was once a
Saints Row 3
expansion pack,
but has now been incorporated into Saints Row 4
.
Superannuation
, the internet super-sleuth that noticed the domain registrations, also pointed out the THQ had registered 1666Amsterdam.com and 1666TheGame.com. He throws up a lot of speculative theory as to what the
1666
project could actually be - from the Great Fire of London to the Four Days Battle and even a re-incarnation of Guillermo Del Toro's
InSane
.
It's best to just stick to the fact right now, though. What we know is that THQ will certainly have a number of new titles to showcase over the next year or two. And that, given the company's recent troubles and rumours, is undoubtedly a good thing.
Comments
Posting of new comments is now locked for this page.
Polls
E3 2013
Are you excited about E3 2013?
About what?
Cannot wait!
Not bothered.
Other - Tell us in the comment after voting.
comments>>
more polls >>