As part of an ongoing series, SPOnG gets the unedited, open and highly informed opinions of developers, producers and more in the vast world of computer games.
Industry Figure:
Peter Molydeux
Job Title:
Artist/Thinker/Worker/Soul
Company:
Yes, very good.
Best Known For:
Being Twitter's Petermolydeux, MolyJam Global Game Jams
Gaming is precious. Gaming is immortal. Gaming is a door with which countless artistic questions lie, unanswered, on the other side. And it is Peter Molydeux, a light-hearted parody character of real-life designer Peter Molyneux, that has the power to solve these questions.
Peter Molydeux made a name for himself via Twitter and gaming podcast Joypod, hosted by SPOnG. As word of his illustrious wisdom spread, a completely new idea was born - what if coders around the world worked together to make inventive game concepts a reality? Concepts like playing as the road instead of the cars in a racing game?
And so MolyJam, the global game jam, was born.
Over 270 such games were created in 48 hours last year
, a feat accomplished in over twenty locations around the world. Peter Molyneux himself has even said he'd like to take part in the next one. With such a background in design and inspiration, it seemed only right that we would approach Mr. Peter Molydeux for his insights as to the future of gaming. Read on...
Do you feel that we are entering a new console generation too soon? Or can it not come soon enough? And why?
Personally I just want a end to generations. Games should be allowed to breathe naturally and not be forced to evolve at monumental stages of this industry. I'd only allow new generations if we could make crazy rules such as having the next generation be forced to have the graphical capabilities of games from the 80's.
THAT could be exciting could it not? If Ubisoft were forced to reimagine
Assassin's Creed
using 8 bit graphics. Back in those days games with those capabilities were made by one or two people. Imagine what you could do if you had 500 people working on it?
So no unless you adjust the rules I have no care for next generations unless they create new experiences that go beyond a dog with a flappy jaw.
Ouya and Oculus Rift have generated a lot of positive buzz. How disruptive do you think these products will be when they are released to the public?
Well Ouya is just creating the same experiences so I don't care about that. Oculus Rift is interesting but again you have people creating the same games but using this as a twist. 'Oh wow, imagine being in space and looking around?!' or 'Ohhh I'm looking around under the water!'. Boring. I've done those things in games before.
I want people to play around with the Oculus Rift so that it's more than just a new way of experiencing an old game. What if you played a character with 5 heads for example? You know, ideas that give designers exciting challenges. If I made a Oculus Rift game I'd do exactly the opposite of what gamers expect. For example can you imagine a Oculus Rift game where you play a blind person?
If designers come up with visionary ideas like this then devices like the Oculus Rift could very well lead us to an exciting future!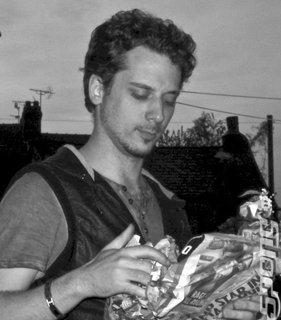 How excited were you for E3? What did it do for you as both a developer and as a gamer?
No interest at all. I'm done with E3! I have bad experiences with E3. You know you can go to E3 with an amazing demo of something truly incredible like Milo and everybody laughs. 'Haha why would we want to interact with a virtual child??!' or they shout 'Pedophile!' at you. Then years later they finally realize that child interaction was the future and go on about how great games '
The Walking Dead
' and '
Last of Us
' are.
E3 doesn't represent the future anymore because they know that if it really did that people would laugh and make fun of them. I'm not bitter. It's just that I announced the life changing secret of what was inside the cube outside of E3 and yet when people look back at this year it will be my reveal that stands out as game changing more than anything that was revealed at E3. Fact.
Thanks to 'Peter Molydeux' for his time.
Industry Insights Series:
Jun 2013: Ste Pickford, Zee-3
Jun 2013: Andy Payne, O.B.E.
Jun 2013: Gordon Midwood, Different Tuna
Apr 2013: Nathan Fouts, Mommy's Best Games
Apr 2013: Andrew Smith, Spilt Milk Studios
Apr 2013: Antti Ilvessuo, RedLynx
Apr 2013: Peter Molydeux, Gaming Genius
Apr 2013: Paul Rustchynsky, Evolution Studios
Mar 2013: Gordon Midwood, Different Tuna
Mar 2013: Theo Sanders, Ubisoft Singapore
Mar 2013: Dan Webb, X360A
Mar 2013: Stewart Gilray, Just Add Water / Oddworld Inhabitants
Mar 2013: Alex Neuse, Gaijin Games
Feb 2013: Blazej Krakowiak, Techland
Feb 2013: Gina Jackson, Women in Games Jobs
Feb 2013: Stewart Gilray, Just Add Water & Oddworld Inhabitants
Feb 2013: Dominic Matthews, Ninja Theory
Jan 2013: Dan Webb, X360A
Jan 2013: Antti Ilvessuo, RedLynx
Jan 2013: Andy Payne, O.B.E.
Jan 2013: Gordon Midwood, Different Tuna
Jan 2013: Andrew Smith, Spilt Milk Studios
Jan 2013: Theo Sanders, Ubisoft Singapore
Jan 2013: Paul Rustchynsky, Evolution Studios
Jan 2013: Peter Molydeux, Genius
Jan 2013: Andy Payne O.B.E.
Jan 2013: David Jaffe
Jan 2013: Jon Lander of CCP
Dec 2012: Martyn Brown, InsightforHire
Dec 2012: Steve Lycett, SUMO Digital
Dec 2012: Theo Sanders, Ubisoft Singapore
Dec 2012: Ted Price, CEO Insomniac
Dec 2012: Paul Rustchynsky, Evolution Studios
Dec 2012: Antti Ilvessuo, RedLynx