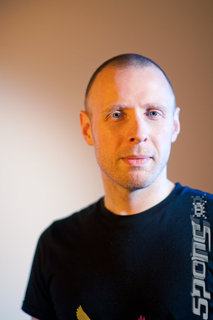 As part of an ongoing series, SPOnG gets the unedited, open and highly informed opinions of developers, producers and more in the vast world of computer games.
Industry Figure:
Paul Rustchynsky
Job Title:
Game Director
Company:
Evolution Studios
Best Known For:
Motorstorm RC
Evolution Studios became the darling of Sony's British output during the launch of the PlayStation 3, where it released the original
Motorstorm
alongside the Blu-ray console. After several sequels and spinoffs - including the addictive
Motorstorm RC
- the developer is taking its hand to the PS4, with the upcoming
DriveClub
.
We speak with Paul Rustchynsky on Sony's intentions to grow its developer relations, how he feels about an always-online future and whether new IPs are necessary ahead of the PS4 launch.
Do you feel that an always-online future would be a positive one, for both developers and gamers?
As seen with the recent release of
SimCity
there are clear problems associated with always-online games, but that's not to say there aren't benefits to be had either for both players and developers.
Ultimately though I believe that a game should only be online-only if there is a meaningful and justified improvement to the experience, which without online wouldn't work at all.
Following Sony's PlayStation 4 reveal event, how successful do you think next-generation consoles will be in capturing the indie and mobile gamer?
Sony has made a huge effort with the PlayStation 4 to make the hardware more accessible and open to indie developers, plus with the announcement of '
The Witness
' from Jonathan Blow it sends a very clear message that Sony are serious about getting the best indie game makers on board.
For mobile gamers the PlayStation Vita is only going to go from strength to strength as the software catalogue continues to broaden and more significantly as the PS4 becomes an integral companion, offering a strong range of complimentary features such as Remote Play.
How important is it to create new intellectual properties for existing platforms? Should the final years of a console generation consist of already-established franchises?
Releasing new IP is always important, irrespective of the time within the console generation, especially from a 1st party developers perspective as I think its our responsibility to keep the new IP arriving on Sony platforms throughout a consoles life cycle.
You could argue that its easier to introduce new IP with new hardware but that hasn't stopped Naughty Dog with
The Last of Us
or Quantic Dream with
Beyond: Two Souls
looking to release in 2013 on the PS3, which is great for PlayStation fans.
Thanks to Paul for his time. Check out SPOnG's recent industry insights below.
Industry Insights Series:
Mar 2013: Gordon Midwood, Different Tuna
Mar 2013: Theo Sanders, Ubisoft Singapore
Mar 2013: Dan Webb, X360A
Mar 2013: Stewart Gilray, Just Add Water / Oddworld Inhabitants
Mar 2013: Alex Neuse, Gaijin Games
Feb 2013: Blazej Krakowiak, Techland
Feb 2013: Gina Jackson, Women in Games Jobs
Feb 2013: Stewart Gilray, Just Add Water & Oddworld Inhabitants
Feb 2013: Dominic Matthews, Ninja Theory
Jan 2013: Dan Webb, X360A
Jan 2013: Antti Ilvessuo, RedLynx
Jan 2013: Andy Payne, O.B.E.
Jan 2013: Gordon Midwood, Different Tuna
Jan 2013: Andrew Smith, Spilt Milk Studios
Jan 2013: Theo Sanders, Ubisoft Singapore
Jan 2013: Paul Rustchynsky, Evolution Studios
Jan 2013: Peter Molydeux, Genius
Jan 2013: Andy Payne O.B.E.
Jan 2013: David Jaffe
Jan 2013: Jon Lander of CCP
Dec 2012: Martyn Brown, InsightforHire
Dec 2012: Steve Lycett, SUMO Digital
Dec 2012: Theo Sanders, Ubisoft Singapore
Dec 2012: Ted Price, CEO Insomniac
Dec 2012: Paul Rustchynsky, Evolution Studios
Dec 2012: Antti Ilvessuo, RedLynx