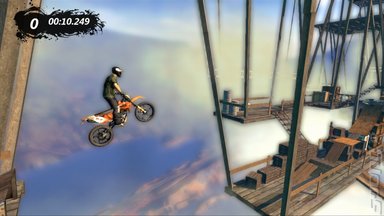 As part of an ongoing series, SPOnG gets the unedited, open and highly informed opinions of developers, producers and more in the vast world of computer games.
Industry Figure:
Antti Ilvessuo
Job Title:
Creative Director
Company:
RedLynx
Best Known For:
Trials Evolution
You have Antti Ilvessuo and his physics-infatuated crew at RedLynx to thank for the
Trials
series, a game which brought motorbiking and twitch-based gaming together in a manner not seen since Nintendo's own
Excitebike
.
Just try and complete a level in
Trials Evolution
on XBLA without crashing headfirst into a wall and itching for just one more go. It's really less of a sports game and more of a intense platformer with bikes in it. One that features crazy scenarios to boot.
With his finger on the pulse, we asked Antti what he thought of the industry as it stands today. Here are his thoughts on always-online, the PS4 and new IPs.
Do you feel that an always-online future would be a positive one, for both developers and gamers?
In the end games are going to be connected, and being connected is a really good thing. If you're connected, you can play with friends. You can also play single player games with friends. It's more fun that way.
Obviously, there has to be a good way to manage the experience if you don't have a connection, so that games still work on the device you bought it for. The game should be playable even if you lose your connection. The world is all about connections: the connections between devices, programs, and people are growing all the time. There's no reason why one media type would not follow.
Following Sony's PlayStation 4 reveal event, how successful do you think next-generation consoles will be in capturing the indie and mobile gamer?
During the PlayStation Event in February, Sony showed they were committed to making the console open and accessible to indie developers. As for mobile gamers, Ubisoft has already spoken about having companion apps for a game like
Watch_Dogs
, so there will definitely be more opportunities to connect experiences.
Sony is also promoting the Vita as an even more powerful type of companion mobile device for PS4, so there?s a lot of potential there. It will be interesting to see how it goes!
How important is it to create new intellectual properties for existing platforms? Should the final years of a console generation consist of already-established franchises?
IP is everything, and there's always room for new IP. The good, high-quality IP just grows larger and larger, while others die. That's the way of evolution in nature, and it's the same in game IP.
Someday, many years from now, I'm going to sail to a small island between Isabella and Santa Cruz. There I'll set up a room on the island and connect to the Internet by satellite. There I will sit, making notes about games and birds, testing different games, looking at the different birds and making assumptions. When I?m done, I'll come out with a book that is called "
The Game of the Player: A Story of Evolution in Our Time and the Beaks of Birds
."
It will be a good book. Some day.
Thanks to Antti for his time. Check out SPOnG's recent industry insights below.
Industry Insights Series:
Apr 2013: 'Peter Molydeux', Gaming Genius
Apr 2013: Paul Rustchynsky, Evolution Studios
Mar 2013: Gordon Midwood, Different Tuna
Mar 2013: Theo Sanders, Ubisoft Singapore
Mar 2013: Dan Webb, X360A
Mar 2013: Stewart Gilray, Just Add Water / Oddworld Inhabitants
Mar 2013: Alex Neuse, Gaijin Games
Feb 2013: Blazej Krakowiak, Techland
Feb 2013: Gina Jackson, Women in Games Jobs
Feb 2013: Stewart Gilray, Just Add Water & Oddworld Inhabitants
Feb 2013: Dominic Matthews, Ninja Theory
Jan 2013: Dan Webb, X360A
Jan 2013: Antti Ilvessuo, RedLynx
Jan 2013: Andy Payne, O.B.E.
Jan 2013: Gordon Midwood, Different Tuna
Jan 2013: Andrew Smith, Spilt Milk Studios
Jan 2013: Theo Sanders, Ubisoft Singapore
Jan 2013: Paul Rustchynsky, Evolution Studios
Jan 2013: Peter Molydeux, Genius
Jan 2013: Andy Payne O.B.E.
Jan 2013: David Jaffe
Jan 2013: Jon Lander of CCP
Dec 2012: Martyn Brown, InsightforHire
Dec 2012: Steve Lycett, SUMO Digital
Dec 2012: Theo Sanders, Ubisoft Singapore
Dec 2012: Ted Price, CEO Insomniac
Dec 2012: Paul Rustchynsky, Evolution Studios
Dec 2012: Antti Ilvessuo, RedLynx