Japanese Hardware Chart: PS Vita Smashes 60,000 Units After Price Cut
Phantasy Star Online 2 release also helps beef up numbers.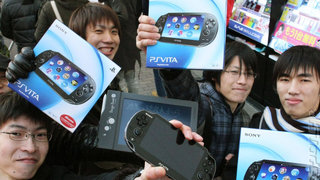 Looks like Sony's Japan president was being ever-so-slightly conservative with his earlier prediction that PS Vita sales have "quadrupled" in the country. Official numbers are in for the week, and it's better than expected. The handheld has shifted 62,543 units between February 25 to March 3.
That's six times the number of its previous week's sales of 11,456 units, and pretty much entirely down to the fact that Sony slashed the price of the Vita in Japan to ¥20,000 (around £140) on February 28.
But it's worth noting that the price cut came along with a major new release for the system. SEGA's
Phantasy Star Online 2
, a portable version of the popular free-to-play PC MMO, sold 61,227 units at retail alone. The game was offered via PlayStation Network too, but Sony does not reveal digital sales numbers, meaning that PSO2 could have potentially sold much more.
It takes the top spot in the Japanese Hardware Chart. Between the two 3DS models (regular and LL), Nintendo's portable outsells the Vita with a combined total of 77,439, but it's still very good going for Sony, which has had a struggle with the Vita's popularity ever since its launch.
Hardware Chart
Vita: 62,543 (11,456)
3DS LL: 50,265 (49,317)
3DS: 27,174 (25,412)
PS3: 25,725 (18,529)
PSP: 11,171 (8,981)
Wii U: 10,021 (9,633)
Wii: 1,383 (1,317)
360: 486 (473)
Via
Gematsu
Polls
E3 2013
Are you excited about E3 2013?
About what?
Cannot wait!
Not bothered.
Other - Tell us in the comment after voting.
comments>>
more polls >>