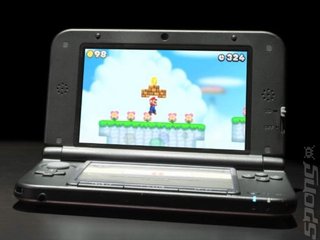 Nintendo's 3DS has really taken off in Japan. How much, exactly? Well, consider this - according to stats-tracker Media Create, the handheld has just outsold the PlayStation 3's lifetime sales in the country.
This past week, Nintendo shifted 211,499 units of 3DS hardware, taking the platform's total lifetime sales figure to 8,799,378. It has taken a year for the console to reach this milestone. Sony's PlayStation 3, on the other hand, has sold 8,716,260 units since its launch in 2006.
Only one console performed better than the 3DS, and that was Nintendo's brand new Wii U console. The Japanese really warmed to the GamePad experience, with Week One sales at a whopping 308,142 units. To compare, the PlayStation 3 sold 36,994 units this past week - a respectable number, even if it has been eclipsed by the 3DS.
Full chart is below, lifetime sales are in parentheses.
Nintendo Wii U – 308,142 (308,142)
Nintendo 3DS – 211,499 (8,799,378)
PlayStation 3 – 36,994 (8,716,260)
PSP – 19,637 (19,488,236)
PlayStation Vita – 11,039 (1,074,621)
Nintendo Wii – 6,714 (12,608,700)
Xbox 360 – 1,216 (1,608,399)
PlayStation 2 – 904 (21,829,112)
Nintendo DS – 424 (32,875,469)
Via
Nintendo Life
Comments
The PS3 bump is down to Yakuza 5.
Yeah, but the Wii sold 350,358 in its first week in Japan.

So waggle is more popular than gamepad?
Polls
E3 2013
Are you excited about E3 2013?
About what?
Cannot wait!
Not bothered.
Other - Tell us in the comment after voting.
comments>>
more polls >>