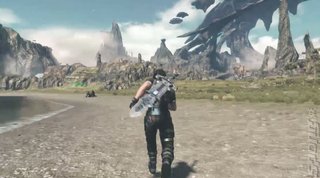 A new Xeno game by Monolith Soft? Erm... yes please! Nintendo president Satoru Iwata surprised fans around the world when he presented the first trailer of the studio's new project for Wii U.
It doesn't have a name yet - with nothing but a bold "X" at the end of the video - but it does show off a lot of gameplay that suggests that Monolith are building an online RPG. HUDs and play mechanics all seem to bear the characteristics of an MMO.
There isn't really much more to say, other than the fact that it looks so bloody tasty. Watch the trailer below and see if you agree with us.
Comments
Posting of new comments is now locked for this page.
Polls
E3 2013
Are you excited about E3 2013?
About what?
Cannot wait!
Not bothered.
Other - Tell us in the comment after voting.
comments>>
more polls >>