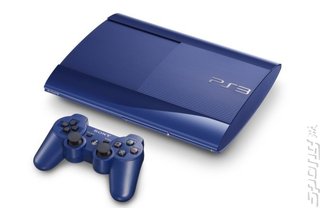 Like Pokémon game titles, Sony appears to be running out of colours for its consoles. The company has announced two new Super Slim PS3 styles in Japan, and seems to have exhausted the Dulux colour chart in an attempt to name them: Azurite Blue and Garnet Red.
The consoles will come with 250GB hard drives, and a matching controller to suit the console. Japanese punters will be able to grab it for 24,980 JPY (or Ł175). That's not bad at all!
As with most flash-looking Sony designs, these will be released in "limited quantities" from February 28. Once they're gone, they're gone, it seems. No word on a release outside Japan.
Take a look at
SPOnG's PS3 Super Slim review
to see if it will be worth your time.
Comments
Posting of new comments is now locked for this page.
Polls
E3 2013
Are you excited about E3 2013?
About what?
Cannot wait!
Not bothered.
Other - Tell us in the comment after voting.
comments>>
more polls >>