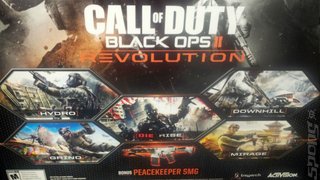 Call of Duty: Black Ops II is lining up some new DLC - no surprises there given that DLC is how game publishers are going to be making most of their bucks. The surprise is...
...well, the surprise is that the DLC, called Revolution, has apparently been leaked a tad early and in the form of a poster. A source who has seen the leak has some lovely detail.
MP1st says that, "According to the images posted on the Call of Duty forums (later removed), this map pack will see a release date of January 29th, coming to the Xbox 360 first (most likely one month later to the PS3 and PC), and will include the following maps and weapon:
MP – Hyrdo
MP – Downhill
MP – Grind
MP – Mirage
Zombie – Die Rise
Weapon – Peacekeeper SMG"
Oh, yes, games publishers also make cash from things like Season Passes...
Via
mp1st
Comments
Posting of new comments is now locked for this page.
Polls
E3 2013
Are you excited about E3 2013?
About what?
Cannot wait!
Not bothered.
Other - Tell us in the comment after voting.
comments>>
more polls >>