Games Database
PC
Sport: Basketball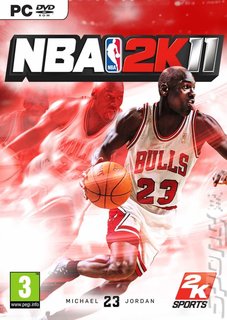 Also for:
Wii, PS3, Xbox 360, PS2, PSP
Viewed:
3D Third-person, floating camera
Genre:

Sport: Basketball

Media:
CD
Arcade origin:
No
Developer:
Visual Concepts
Soft. Co.:
Take 2
Publishers:
2K Sports (US/GB)

Released:
8 Oct 2010 (GB)
Oct 2010 (US)

Ratings:

PEGI 3+
Summary
Basketball - basically, the American's rule at it. The NBA is the best league in the world. When it comes down to it, 2K games also has a tight lock on the video gaming version. So, the combination in its latest iteration is a crowd pleaser for fans.

For a start – and without even getting into the game-play – the soundtrack is a stonker with tracks from the likes of Snoop Dog, Drake, Middleman, Two Door Cinema Club and Art vs. Science.

In terms of the game itself, cover star and world renowned athlete Michael Jordan now has his own 'Jordan Challenge' mode in which you step through 10 of the great man's career achievements. These include challenges such as Jordan Challenge: Score 63+ points, play against the 1986 Celtics, shoot at least 50 percent from the floor.

But there is more Jordan than that. You also get "MJ: Creating a Legend" mode where you get to steer MJ from rookie to superstar. All that plus you get, for the first time, the classic Chicago Bulls line-up.

The game uses the IsoMotion dribbling controls to add fluidity to game-play. There is also an improved My Player mode, new My Career and updated graphics. The publishers have also roped in the assistance of a producer from TNT to make the commentary and broadcast elements of the game more like the real TNT broadcast aspects.

Also in this version is the NBA Draft giving players the chance to experience the stress and excitement of pre-season wheeling and dealing. Time to hit the boards!
Related Games
NBA Live 98, experience the NBA lifestyle. Hip graphics and progressive music combine with the more >>

Get ready for hardcore hoop-it-up action, coming at you on Sega Dreamcast at a blazing more >>
View all related games (37) >>