Games Database
PS3
Sport: Football - Soccer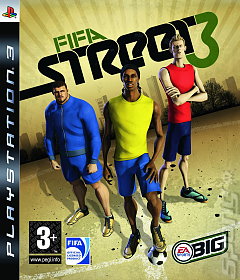 Summary
Join the football revolution with FIFA Street 3. Whether you're hitting the streets in a 'Play Now' game, taking the FIFA Street challenge, or calling out a friend in Playground Picks mode, you can choose from more than 250 of the cream of the crop of world football. The streets of Europe, the urban playgrounds of South America and Asian rooftops are among the exotic locations you can go play in in FIFA Street 3.

Tricks and shots on goal are the name of the game, and there are an endless number of awe-inspiring moves you can pull off to dominate your opponents. A successful shot fills up your Gamebreaker meter during a game, and the more you shoot, the faster you'll trigger a Gamebreaker moment. During one of these moments, your players will perform with maximum skill boosts for a short time. Make the most of that time!

Game modes available include Play Now, a quick introduction to the world of FIFA Street 3; FIFA Street 3, a kid of career mode; Head-to-Head is a 'best-of' series against a friend; Playground Picks is a reminder of the school playground where you select players in turns; and Practice is self-explanatory.

Ultra-responsive gameplay controls and an easy-to-use trick system give you instant control over some of the world's greatest players. Take to the streets using a simplified button configuration providing you with dozens of different ways to show off your superiority. Combine flicks, drags, traps and more to pull off near-impossible moves and prove you have the skills to own the streets.
Similar Titles

It's fair to say that Electronic Arts have a near-undisputed monopoly on licensed sporting games: more >>

Battle your rivals with the ultimate display of soccer skills in FIFA Street 2 from more >>
View all similar titles (13) >>
Related Games

It's fair to say that Electronic Arts have a near-undisputed monopoly on licensed sporting games: more >>

Battle your rivals with the ultimate display of soccer skills in FIFA Street 2 from more >>
View all related games (12) >>