Viva the PS Vita! Sony Rallies Software Support for Handheld
Four games, Cross-Buy compatibility and a free PlayStation Plus title.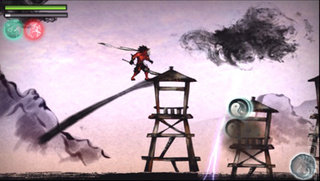 PlayStation Vita gets a shot in the arm this week, as a number of games are released this week for the handheld in Sony's digital store.

A remastered version of bonkers alien shooter Earth Defence Force 2017 leads the charge for PS Vita content, with seven new missions and an online multiplayer mode (co-op and versus are available) among the updated features. It's yours for £34.99.

Musical tactics game Orgarythm is a long-awaited addition, and includes gameplay that's somewhat reminiscent of Patapon. You command a number of troops on a battlefield by tapping the touchscreen in time with the music, selecting attacks and swiping to direct your army. It's going for £11.99.

Retro City Rampage finally makes its way to PS3 and PS Vita, bringing with it a whole lot of madcap 8-bit fun including homages from all sorts of classic NES games. Even better news is that the game is part of Sony's Cross-Buy initiative, meaning if you purchase one version you get the other free. Saves between PS3 and Vita are compatible with one another too.

The artistic Sumioni: Demon Arts brings creative touchscreen destruction to the Vita, with brush strokes resulting in blade attacks and powerful elemental strikes. You can guide main character Agura through the Okami-style world by drawing safe pathways, create thunderstorms and summon gods. It's available for £7.99.

If you're a PlayStation Plus subscriber, you also get to download the Vita version of Jet Set Radio and play it for free. On PlayStation 3, store browsers can expect to see DmC Devil May Cry, King of Fighters XIII Gold Edition and the Borderlands 2: Sir Hammerlock's Big Game Hunt among others. Check out the rest of the store update here.
Polls
E3 2013
Are you excited about E3 2013?
About what?
Cannot wait!
Not bothered.
Other - Tell us in the comment after voting.
comments>>
more polls >>