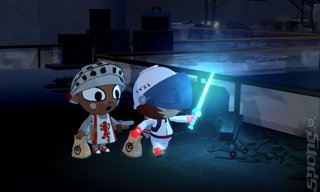 The sale of THQ's assets and IP later this month has attracted the interest of Tim Schafer and Ron Gilbert's Double Fine studio, according to a new report.
Distressed Debt Investing,
which announced the THQ sale earlier this week
,
revealed on Twitter
that "Double Fine has requested the bankruptcy filings in the THQ case."
The two companies worked together on digitally-distributed titles
Stacking
and
Costume Quest
, so the
Brütal Legend
developer could well be interested in getting the rights for its creations back.
Double Fine has made no secret in the past that it somewhat laments the fact that other publishers hold the key to the creations of its developers. In particular, the
Monkey Island
series, which was created by Ron Gilbert and owned by LucasArts.
Comments
Posting of new comments is now locked for this page.
Polls
E3 2013
Are you excited about E3 2013?
About what?
Cannot wait!
Not bothered.
Other - Tell us in the comment after voting.
comments>>
more polls >>