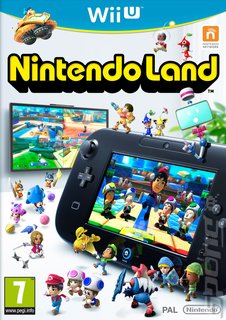 Nintendo has released a full list of titles confirmed to launch alongside the Wii U next week.
Everything below will be out on November 30th, alongside the hardware. Yes, you may well have know about a lot of these, but some of them - such as
Arkham City
- have been floating around the launch window without a solid date for a while, and it's useful to have them all in one place. So, that list in full:
Funky Barn
- 505 Games
Call of Duty: Black Ops II
- Activision
Skylanders Giants
- Activision
TRANSFORMERS PRIME
- Activision
DISNEY EPIC MICKEY 2: THE POWER OF TWO
- Disney
EA SPORTS FIFA 13
- EA
Mass Effect 3 Special Edition
- EA
Ben 10: Omniverse
- D3 Publisher of Europe
Family Party: 30 Great Games Obstacle Arcade
- D3 Publisher of Europe
TANK! TANK! TANK!
- Namco Bandai
TEKKEN TAG TOURNAMENT 2 Wii U Edition
- Namco Bandai
Nintendo Land
- Nintendo
New Super Mario Bros. U
- Nintendo
Sonic & All-Stars Racing Transformed
- SEGA
Warriors Orochi 3 Hyper
- Tecmo Koei
Darksiders 2
- THQ
Assassinís Creed III
- Ubisoft
Just Dance 4
- Ubisoft
Rabbids Land
- Ubisoft
Sports Connection
- Ubisoft
Your Shape: Fitness Evolved 2013
- Ubisoft
ZombiU
- Ubisoft
Batman: Arkham City Armoured Edition
- Warner Bros.
Game Party Champions
- Warner Bros.
Comments
Im really worried about this launch, preordered for the kids xmas, but looking at the tech i cannot see this console doing as well as the Wii, sure most said teh same about teh Wii and it sold buckets, but this time i just dont see those adopters taking the novelty, Nintendo know this and are aiming old tech at a new gen of hardcore gamers!! Slow Processor, Slow Memory, No Multi-Touch Screen etc, the software really really needs to be good here! 3D Mario, Zelda, Donkey Kong, all need to bring it, then we need fresh IP's and not just from 3rd parties but from nintendo, and then they need full on 3rd party support, Rockstar type 3rd party support... i dont see this happening. if Nintendo fail here, they need ot quickly have a Super powerful hardcore console in the works to hit the market in 2 years time, to compete with Sony & MS or give up the home console scene stick to Handheld and refresh that every 3-4 years and offer games to MS & Sony consoles.
Posting of new comments is now locked for this page.
Polls
E3 2013
Are you excited about E3 2013?
About what?
Cannot wait!
Not bothered.
Other - Tell us in the comment after voting.
comments>>
more polls >>