Metal Gear Solid: Ground Zeroes Announced at Anniversary Event
GREE social game and movie also revealed.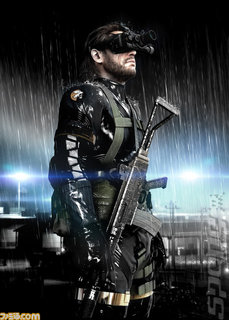 Metal Gear Madness descended upon Japan last night, as series creator Hideo Kojima revealed several brand new projects at an event marking the 25th anniversary of the franchise. Top of the list? A new open-world title running on Kojima Production's new FOX Engine, titled Metal Gear Solid: Ground Zeroes.
The game was reportedly seen running in real-time on a PC with current-generation specs, but if the image published by Famitsu (pictured) is anything to go by, we're in for one seriously tasty-looking title. Certain details about the title were restricted from publication by Konami, but it seems that a few users on Twitter took to breaking NDA to let us know some more.
"Snake crawled, avoiding searchlights, killed guard, rode jeep, called in helicopter for evac," wrote one
Marc MacDonald
. "Sounds like
Metal Gear
, but the scale & atmosphere... Wow."
Kojima also announced the production of a
Metal Gear Solid
movie, which will be handled by Marvel producer Avi Arad for Columbia Pictures. Insert your own joke about how the games already seem to be like movies, right here.
Metal Gear: Social Ops
, a mobile title developed in conjunction with Japanese social gaming network GREE, was also announced.
Comments
Those gloves make him look like he's about to unblock your drains.
Posting of new comments is now locked for this page.
Polls
E3 2013
Are you excited about E3 2013?
About what?
Cannot wait!
Not bothered.
Other - Tell us in the comment after voting.
comments>>
more polls >>