Crytek: Some Crysis 3 Visual Goodies Only for Super-High-End PCs
Better invest in that beefy tower you had your eye on.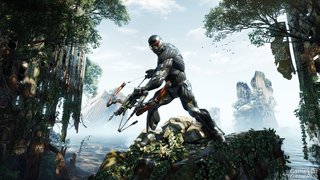 High-spec PC aficionados, worry not - Crytek is still on your side. Crysis 3 will be taking full advantage of those nuclear-powered towers you're rocking in your bedroom, if comments from Senior Creative Director Rasmus Højengaard are anything to go by. There will be "visual goodies that you can only get if you have a super-high-end PC," in fact.
In an interview with SPOnG, to be published tomorrow, Højengaard was asked whether he felt PC players felt a bit shunned by the studio's decision to go multi-platform with
Crysis 2
, and whether he sees a similar dissenting voice rising for
Crysis 3
. "Yes, and yes," was his immediate response.
"PC players fundamentally want
Crysis
to only be on PC, right? And, you know, that's kind of understandable when you consider how the original game - and even Crytek itself - started out," Højengaard told SPOnG.
"But, we're definitely pushing this game a lot from a visual standpoint, and for sure there's going to be visual goodies in it that you can only get if you have a super-high-end PC.
"At the same time, we want to ensure if you don't have a super-high-end PC, the game will still look amazing. On top of that, we want to make sure the experience is not different from platform to platform." Højengaard added that the challenges for developers to make a game visually impressive by today's standards has increased dramatically from five years ago.
Stay tuned for the full interview tomorrow.
Comments
You are not getting any of my money ever again!! Crysis 2 PISSED me off!!!!
Posting of new comments is now locked for this page.
Polls
E3 2013
Are you excited about E3 2013?
About what?
Cannot wait!
Not bothered.
Other - Tell us in the comment after voting.
comments>>
more polls >>