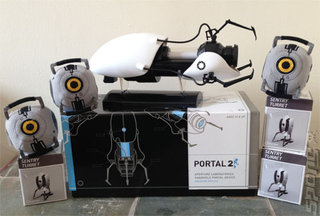 Right, we're sponsoring a competition. It's a damned fine competition. It's a competition to win a replica Portal gun.
That's right, a REPLICA
PORTAL
GUN CAN BE YOURS! Here's how...
First read these acey features about
Portal 2
and this about the original
Portal in the Orange Box
.
Then head over to the lovely people at Print Express and, well "To enter, you'll need to get drawing, painting or designing a Portal based piece of art. It can be a scene from the game, one of the characters or anything Portal related that you can think of," that sounds neat. We can't enter though.
Anyway,
GO HERE NOW
.
Comments
Posting of new comments is now locked for this page.
Polls
E3 2013
Are you excited about E3 2013?
About what?
Cannot wait!
Not bothered.
Other - Tell us in the comment after voting.
comments>>
more polls >>