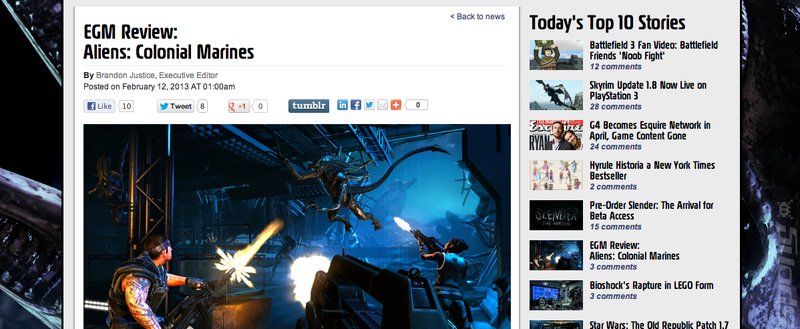 So Aliens: Colonial Marines is out today, and opinion isn't very divided at all on the quality of the title. Unless, of course, you look towards veteran reviews outlet EGM.
While Gearbox's epic screwup saw a panning across the board - with
Eurogamer
and
Polygon
handing it a 3/10,
Gamespot
and
IGN
4.5/10 and
Gamespy
2/5 - EGM's
extremely positive review stands alone as a shining beacon of "awesomeness"
. The website currently has an
Aliens: Colonial Marines
takeover ad. We're sure the outlet just really likes the game, though.
As for us, we found it to be utterly disappointing and very middling for a game that's been hyped for so long.
Read our 5/10 review here for more details
- and if you're planning on buying the game regardless, let us know what you think of it.
Comments
Posting of new comments is now locked for this page.
Polls
E3 2013
Are you excited about E3 2013?
About what?
Cannot wait!
Not bothered.
Other - Tell us in the comment after voting.
comments>>
more polls >>