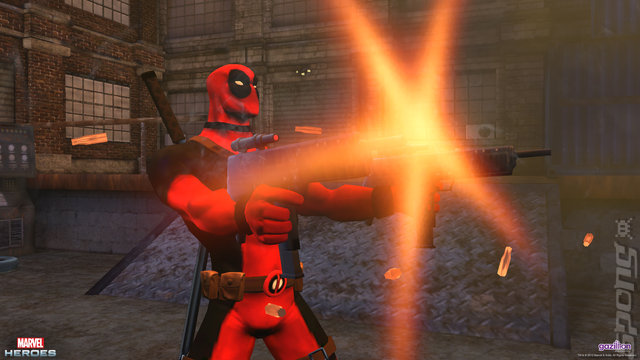 UPDATE: And that's the lot. We're all out. Do see below for details on where else you might get a code, though.SPOnG has a handful of Marvel Heroes beta keys to give away, and we're making it easy for you.
For a chance to win one, tell us in the comments section below which Marvel character you'd most like Giant Man to accidentally sit on and why, then email vader [at] spong [dot] com with the subject header, 'Give me a Marvel Heroes beta key please. Excelsior!'
If you get a key, your instructions for redeeming it go as follows:
· Register an account on MarvelHeroes.com
· After registration, click 'redeem key' in the Account Management page
· Enter the key *exactly as shown* (including hyphens)
· You will be taken to the client download page ­ download the client
· Launch the game launcher to see the Closed Beta schedule
Marvel Heroes
is a free-to-play MMO blending action RPG gameplay with... well, Marvel heroes.
We only have a limited number of keys to give away, so if you've not heard back from us within 24 hours unfortunately you haven't won. If you don't get a key through the giveaway, though, try heading to
MarvelHeroes.com
for another chance to get one.
Comments
Double Post sorry site messed up.
I comment up the update but nothing :( bad luck
Or they are just busy and not sent them yet.
@Spinface Hi again, when should the key arrive?
They say within 24 hours, but who knows?
Anyone got there beta key yet?
@HeroFTW Hi there. We sent you a key yesterday but it appears we've had some email trouble. I've re-sent it, so let me know if it's not come through in the next hour or so.

Cheers,
Mark
@mistermase Hi there. It should have arrived earlier yesterday, but it looks like we've had a couple of blips with our email. I've re-sent it, so it should be with you shortly.

Cheers,
Mark
@Spinface Thankyou so much :)
Me neither. Guess we're gonna have to wait a while.
OK, since we've had several issues with people not receiving their keys now we're going to re-send all the ones that haven't already gone out twice. You should receive them pretty soon.

Cheers,
Mark
Right, they've all been re-sent. Hopefully those of you who didn't receive your key the first time will get an email shortly. Sorry to everyone who's had to wait.

Cheers,
Mark
Giant Man should sit on the incredible hulk... so he would be thrown away :D
Giant-man should sit on Deadpool so chaos could ensue!
please let me have a beta key
I want to see Giant Man sit on Wolverine. He (Giant Man) hasn't been in for his latest proctology exam and needs that growth examine and Dr. Logan is our best exam specialist. He can cut out that growth in one swipe.
Polls
E3 2013
Are you excited about E3 2013?
About what?
Cannot wait!
Not bothered.
Other - Tell us in the comment after voting.
comments>>
more polls >>