Games Database
3DS
Racing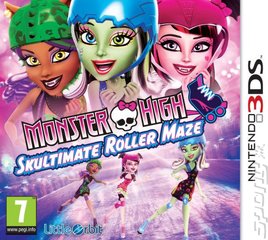 Also for:
Wii, DS
Viewed:
3D Third-person, over the shoulder
Genre:

Racing

Media:
Cartridge
Arcade origin:
No
Developer:
Little Orbit
Soft. Co.:
Little Orbit
Publishers:
Little Orbit (GB)

Released:
29 Mar 2013 (GB)

Ratings:

PEGI 7+
Summary
The popular Monster High brand is back in town, and this time the fashionable 'perfectly-imperfect' students have taken a shine to roller skates - a pass-time that's back in fashion, probably due to the growing international roller derby scene. Whatever the reason, you can expect to help Frankie Stein, Clawdeen Wolf, Draculaura and friends win a fast-paced skating race around the crypts of Monster High in style.

Each course takes you through an interesting part of the creative cartoon school, and features all kinds of power ups and obstacles to consider while on the track. Characters have a special ability that allows them to win the race and bring home victory for themselves. Through the power of becoming champion, they can learn the meaning of the Monster High mantra, "Be Yourself, Be Unique, Be a Monster."

The cartoon's main message of communicating teamwork and creativity through cultural differences is present and correct in this game, with the Skultimate Roller Maze proving to be a significant challenge to anyone who doesn't play by the rules. Multiple gameplay modes are included for fans to sink their teeth into, while difficulty settings and unlockable characters will ensure that you can get the most out of the game.
Related Games
In Monster High: Ghoul Spirit, players have the ability to create and customise their own more >>