Games Database
PC
Puzzle: Hidden Object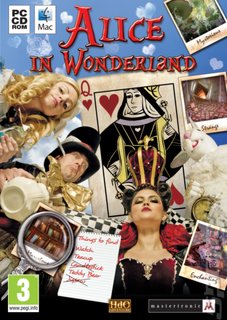 Summary
Alice is bored, sitting on the riverbank as her sister reads a book that doesn't even have any pictures in it. She looks around dreamily and suddenly sees the strangest thing... a rabbit in a riding coat, hurrying along with an eye on his watch! Fascinated, she follows the rabbit down his hole and finds herself in an incredible world, full of even more incredible characters. Help Alice explore her new world and find her way home!

Follow the white rabbit to the strangest places. Zoom in or out to discover mysterious passageways, and speak with crazy characters to find the way home. Every level of this stunning dreamworld is presented in glorious high definition!

Follow the white rabbit and discover a Wonderland brought to life! Meet fabulous characters and discover the strangest places. Curiouser and curiouser!

Players will find 25 locations to explore with minigames, puzzles, jigsaws and brainteasers to sink their teeth into. There's also an online high score competition for the competitive and beautiful high definition images for lovers of fine graphics.