Games Database
PC
Simulation: Flight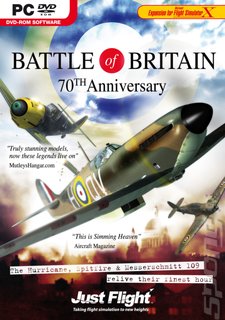 Viewed:
3D First-person / Third-person
Genre:

Simulation: Flight

Add-on pack

Media:
CD
Arcade origin:
No
Developer:
Just Flight
Soft. Co.:
Just Flight
Publishers:
Just Flight (GB)

Released:
25 Jun 2010 (GB)

Ratings:

No rating
Summary
To commemorate the 70th Anniversary of the Battle of Britain, Just Flight brings you a package containing the three key aircraft in this desperate struggle in the air - the Spitfire, Hurricane and the Me 109.

A superbly crafted Hurricane, Spitfire and Me 109 take to the skies again in a top quality expansion for Flight Simulator X. With an array of different model variants and squadron liveries for each aircraft, this is a huge package and the level of detail is fantastic. Travel back 70 years and experience the thrill of flying these classic combatants.

Custom built exclusively for Just Flight with incredibly detailed and ultra-high quality cockpits, numerous model variations, exacting flight dynamics, realistic engine sounds and high-resolution liveries, this is the ultimate simulation package to commemorate the Battle of Britain in FSX!
Related Games
Flight Simulator X for the PC is the culmination of nearly 25 years of the more >>

Flight Simulator X is the culmination of nearly 25 years of the hugely popular Microsoft more >>
Flight Simulator X Gold Edition is a bargain double pack containing Flight Simulator X Deluxe more >>