Games Database
Xbox 360
Sport: Tennis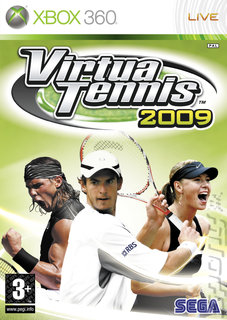 Also for:
Wii, PS3, PC
Viewed:
3D Third-person, floating camera
Genre:

Sport: Tennis

Media:
DVD
Arcade origin:
No
Developer:
SEGA
Soft. Co.:
SEGA
Publishers:
SEGA (GB)

Released:
29 May 2009 (GB)

Ratings:

PEGI 3+
Summary
As what passes for the British summer rolls around once again, it's time to start thinking about dusting off your tennis shorts. For many since 1999, this has meant not heading down to the local court to dodge the broken glass and 'dog left-overs': no, it means getting your thumbs on Virtua Tennis, be that in the arcades, on a Dreamcast or on a high-powered next generation console.

As the series has done in previous years, Virtua Tennis 2009 offers up a host of real-life tennis stars across some of the most realistic courts to be found away from...well, real courts! The likes of Rafael Nadal and Roger Federer are on offer, while you can play as Maria Sharapova against Venus Williams for a bit of classic court action. There are also a handful of new players taking to the court, including Andy Murray and ladies French Open champion Ana Ivanovic. Adding another layer of authenticity, they can all take part in the Davis Cup thanks to a spot of official license grabbing by SEGA.

The series has been tweaked in numerous ways, not least of which is the improvement of the online mode. There's a brand new online ranking system, so you can show the world how you've shaped up over the years of perfecting your slice.

Court Games make a return, enabling players to test their skills in single and multiplayer modes, not just in ball breaking matches, but also in a host of mini-games. Watch out for crocodiles, fruit and pirates...

So, put on your shorts, because you're in for a hot time in front of your TV, if nowhere else!
Similar Titles
For some reason, between 2000 and 2002 there has been a proverbial volley of tennis more >>
EA Sports Grand Slam Tennis is something a bit different for Electronic Arts' sports brand. more >>
Related Games

Virtua Tennis World Tour features a playable array of internationally renowned tennis pros in addition more >>
Virtua Tennis 3 isn't just tennis, but multi-tennis, with 12 mini-games for you to hone more >>

SEGA's classic tennis simulation returns with new players, new controller options but with the design more >>