If you're heading down to the high street, shopping centre or mall this weekend, skipping happily at the notion of grabbing a brand new game for your PC or console, then you're in for a fat slice of disappointment pie. For the first time since, well, SPOnG's been cataloguing new videogames (that's over 15 years), there are
no new retail releases
in the UK this week. There are no re-releases either.
With just one release last week (
Wii Sports Club), what is the industry up to? Don't they realise The Kids need something to do over the summer holidays? Of course, those kids will probably be playing outside ... on their smartphones. So, old PC and console gamers, you'll have to make do with downloads or DLC. Here's my pick of this week's offerings.

Destiny Beta (PS3, PS4)
PS3 and PS4 owners that have pre-ordered Bungie's epic new shooter can get cracking, as the beta opened yesterday. While Xbox One and 360 have to wait a wee while for their turn with the beta, PC comrades will be simmering with envy, as Bungie's still dancing around a confirmed release for the platform.

Crimsonland (PS4)
Twin-stick shooting mayhem of the top-down variety that's has the look of the bastard offspring of Commando, Ikari Warriors, Gauntlet, with a squirt of RPG added to its genes. Lovely.

Face off against a relentless onslaught of bloodthirsty monsters numbering in the hundreds. Battle through 60 missions and five survival game modes, all playable in local co-op mode for up to four players.

One Piece: Unlimited World: Red (PS Vita)
OPUWR thrusts players, once again, into the world of the renowned manga and anime it takes its name from. It's packed to the hilt with weird and wonderful characters from the One Piece universe - don't worry if you're not too familiar with them already, though, with a lot of material behind them they've got very distinguishable characters.

Now, technically, this isn't a new release - it came to retail at the end of June - but we're desperate for something vaguely new, so we'll throw in this PSN release.

Magic 2015 - Duels of the Planeswalkers (Xbox 360, PC)
The Sony camp will have to live without this one, as Microsoft holds the cards for this release. Beset with a curse, mighty hunter Garruk Wildspeaker has taken to slaughtering is kinsfolk. Deck in hand, your job is to batter the unlikely named Planeswalker.

GaiaBreaker (Wii U)
A bit of classic vertical shooter action is waiting for you on the Nintendo eShop. Ward off the ever-invading alien hoard in a ship bristling with guns and homing lasers. It even features big fat borders down each side for that authentic retro arcade feel - saving you from having to flip to tip your TV on its side!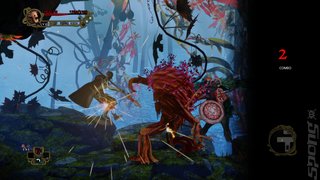 Abyss Odyssey (PC)
Side-scrolling action platformer with a hint of the vintage - all that leaping, dashing, bounding and slashing has got me feeling a bit Strider-ish. Command three warriors through levels that, thanks to the game's procedural engine, offer up fresh and different challenges every time.

You can see all video game releases on the New Games section.