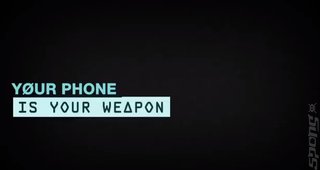 Dear god, I have seen the future, and it is Watch_Dogs. Not the main game that'll be coming to pretty much every format, no no no. I'm talking about the app.
Up to now, every time you hear about a companion app for any game, you can pretty much guarantee that it'll not be worth the time spent on downloading it. Maybe you'll get to try a very stripped down version of the game (hello
Mirror's Edge
) or you'll tinker about with your car's livery in some racer. With
Watch_Dogs
it's all very different. You're going to actively destroy someone.
It all starts very simply, with you sat at home and a tiny pop-up notifying you of an incoming challenge. Someone, somewhere, be it in the same room as you or on the other side of the world, has decided that they're going to have some fun at your expense. At the moment, only one challenge exists: get a car - any car - and hit four checkpoints in a set amount of time, but more types are planned for the future.
On accepting, you're immediately taken out of your wandering about (you can't be challenged if you're in a mission, you must be free to take part) and you begin to trash the city as you race. Any damage or fatalities you cause won't count towards your 'actual' game, so you're free to be as destructive as possible.
So far, so generic. There's plenty of games out there with checkpoints and racing about, yeah? There's none that puts someone else in the role of the city itself, looking to scupper your every movement from their own private helicopter though. And this is where things take a turn for the truly amazing.
As the home player controls their on-screen avatar, the tablet (or phone, the app is good for iOS and Android) player has a distinctive looking 3D wireframe map of the city at their disposal. Dragging and tapping moves your helicopter about to different areas, with various items within a certain radius of the chopper becoming available to you to start causing mayhem.
From simple things like changing traffic lights and raising bollards to redirect traffic flow up to blowing up steam pipes embedded below ground and raising drawbridges to make for some massive jumps, the tablet player does everything they can to cause problems, and it's brilliant.
You also have a bunch of police cars at your disposal who will do their damnedest to run down the other player, force them out of their vehicle and shoot them down.
Death doesn't really matter as you'll respawn, your only loss being a few precious seconds. Once the time runs down, both players are rewarded with XP, then the home player gets to resume their game as normal while the tablet player gets to seek out another challenge.
This is a totally new direction for mobile gaming. Not only will it be free, released on the same day as Watch_Dogs, it's a fresh and innovative way for gamers to interact. The whole experience, from accepting the challenge to successfully hitting the checkpoints or failing miserably in a hail of bullets, is over in less than five minutes.
It also helps that it works so seamlessly, as the hands-on play today showed. If I were to have any criticism, it'd be that I don't think it'll be so comfortable to use the app on smaller devices, but if you've got a tablet to hand and are planning on picking up any version of Watch_Dogs, this is a vital companion.