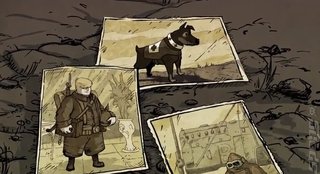 Next year is the hundredth anniversary of the outbreak of the First World War, there are many ways in which people will be marking the occasion, and probably the most curious one is Valiant Hearts, revealed today at the Ubisoft Digital Day in Paris.
While we're used to video games covering war and all its associated horror, this new game takes a lighter approach, focusing not on combat, death and destruction, but instead crafting a tale of love and loss.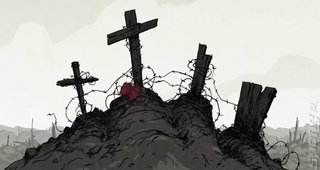 Five characters, all different nationalities (including a dog!) and each with their own strengths and weaknesses, come together to help one of their number mend a broken heart. It's probably best described as a comic book adventure with some puzzle solving aspects, and while it's cast upon a backdrop of one of the greatest of humanity's mistakes, there's this pervasive feeling of hope throughout.
Representatives of both sides of the conflict come into play, and while globally important events take place around them, the human stories take centre stage. A very narrative driven experience, there's little actual bloodshed in the game - the focus is really on the way the characters' stories combine and paths cross. It's actually a quite refreshing take.
Built around the same Ubi Art Framework engine as
Rayman
and
Child of Light
,
Valiant Hearts
also has its own unique graphic style thanks to the work of the artist Paul Tumelaire, who was actually on site and creating new images for the game right there.
His work has also seemingly fed back into the development of the game, inspiring the creators to take different paths as the whole thing has come together. I mean, look at this... it's beautiful.
Based on events discovered in letters written by combatants in the war,
Valiant Hearts
promises to treat a dark subject with a delicate touch in what will be a very different kind of wargame from Ubisoft Montpelier. Look for it some time in 2014.