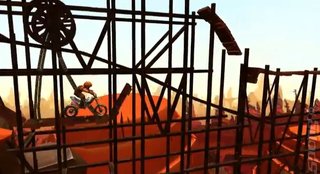 Trials HD! The game that destroyed a thousand joypads is now coming to your mobile so you can throw that at the wall as well!
The Ubisoft Digital Days event has a whole corner devoted to Trials Frontier, the latest in the series that's devoted to seeing you racing through tracks as quickly as possible while not breaking your little biker dude's neck.
Due for release on iOS and Android in early 2014, Trials Frontier is surprisingly faithful to its older siblings though this in some ways it's a very different beast. First of all - and undoubtedly the biggest change - is that this new version is based around a story mode.
Progression is the key to Frontier, slowly working your way up from a crappy hairdryer engined thing to a monster that will give you more precise control - though, as any Trials player knows, it's very easy indeed to push yourself that little bit too much in the wrong direction and end up on the floor.
The simple controls translate very well to the iPhone and iPad, with accelerate and brake on the bottom right of the touchscreen and tilting on the left. This actually leads to some nice touches such as making bunnyhops easier, by just sliding your thumb back and forth - very useful when you're stuck in a rut.
Graphically the whole thing runs very smoothly indeed, and - best of all - it's going to be free to play from Day One. While in-app purchases are there, they don't loom over the game like you see in many other releases; instead, you can simply race and race again, attempting to beat your times and getting more in-game cash that will allow you to upgrade.
Oh, yeah - for the first time, individual components are available to upgrade, so you're not just straight unlocking new bikes. A new crafting system is to be introduced as well where you can modify your vehicle as you please, using either earned credits or spending real world money. Now you can spend a few quid and trick out your bike to maximum levels, but it feels like that's going against the spirit of the game. Instead of money, invest your time and develop your skills - it'll be so much more satisfying.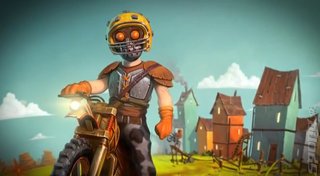 Courses are complex but quick, often over in thirty seconds or less, but that's a reflection of the format - speedy experiences to just pick up and play. Oh, and there'll also be a full track editor available (though probably not at launch) where players will be able to design courses, upload them and challenge the world.
Bugger me, mobile gaming's come on a fair bit.