Competition Closed to Entries
This competition closed to new entries at the end of 13 Nov 2009.
Didn't enter in time? Too bad. Check out our competition page - there may be other competition still open for you to enter.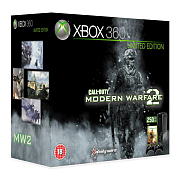 Microsoft has been in touch with an absolutely cracking prize: your chance to
win a Limited Edition Modern Warfare 2 250Gb Xbox 360 console.
That's right, one of the most prized console bundles of the moment (if not ever) is up for grabs and all you have to do is answer a single question correctly and then keep everything crossed!
Prizes
Modern Warfare 2 Limited Edition Xbox 360 Bundle

Number available to win: 1

Microsoft has offered up a chance for you to win an Xbox 360... but not any Xbox 360... Infinity Ward's Modern Warfare 2, the blockbuster sequel to the best selling first-person action game in history, Call of Duty 4: Modern Warfare, was the inspiration for the The Xbox 360 Modern Warfare 2 Limited Edition Console high-speed, low-drag, battle-ready design. Featuring an exclusive design inspired by the epic thriller, more storage space than ever before with a 250GB Hard Drive, two Xbox 360 Wireless Controllers, as well as an Xbox 360 Headset and a Standard Edition copy of Modern Warfare 2. And you have a chance to win it.

ThePrizeFinder - UK Competitions