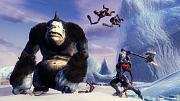 Overlord II
Number available to win: 9

It's time to go Minion maximus on the Empire's collective ass. Players will be able to choose how to wield the Overlord's evil forces. Do they plunder and pillage across the lands, burn cities on a whim in wild acts of destruction? Or do they follow a path of domination, enslaving towns and exerting their will upon the people? Only true despots will be able to make the ultimate choice between being a 'destructive' or a 'dominating' dark lord.

So, along with the lovely people at Codies, we've got three copies of the game on PC, PS3 and Xbox 360 to present to nine lucky readers...

So, we will need an email address in order to tell you if you've won and find out what platform you want to play the game on.