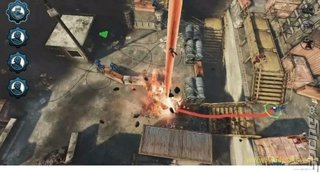 Remember that Gears of War Kinect game that was reportedly leaked onto the internet, and maybe heading for the next-generation Xbox? Developer Epic doesn't know anything about it. At all. It doesn't exist. Nudge nudge, wink wink.
"Erm, we're not going to talk about it," said
Gears of War: Judgment
level designer Jim Brown to
OXM
. Art director Waylon Brinck added, "We have nothing to say on a proposed game that could be really cool and is now possibly having screenshots out, I don't know."
Details on the game were rumbled when a number of low-res images popped online. A squad of four characters could be controlled in an RTS environment using motion controls, with finger gestures used to issue specific commands.
Whether it's due for the Durango or not remains to be seen. Either way, this year will be quite interesting indeed for the console space.
You can read SPOnG's preview of Gears of War: Judgment right here
.
Comments
Posting of new comments is now locked for this page.
Polls
E3 2013
Are you excited about E3 2013?
About what?
Cannot wait!
Not bothered.
Other - Tell us in the comment after voting.
comments>>
more polls >>