Sony Expects PS4-Vita Remote Play Working on "All Games" at Launch
Studios boss asking developers to look at feature before certification.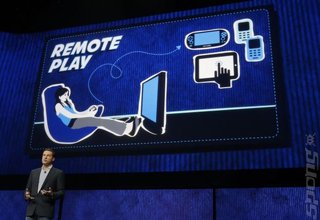 One of the most interesting features about the PlayStation 4 is the ability for users to play their console titles on their PS Vita via Remote Play. But Sony's Worldwide Studios boss Shuhei Yoshida wants all developers to consider the optional feature before submitting PS4 code for certification.
He added, in the interview with
Engadget
, that developers could program Vita-specific controls in addition to simply pushing the gameplay onto the device. "Some PS Vita games make use of the edge of the screen to add contextual buttons -- that works really well, I think, and it's easy to see. So that kind of thing I'd like to see developers do on PS Vita over Remote Play."
Yoshida clearly wants Remote Play to become more ubiquitous this time around - he has his heart set on it! "So we are saying virtually every PS4 game will be playable on PS Vita via Remote Play. I would be heartbroken if it doesn't day one," he said to
Gamespot
.
"On day one, my expectation is that we have to have all games work on PS Vita."
Comments
Great, and as soon as they start throwing in a free Vita with every PS4, I'm sure everyone will jump all over it.

(And Spong: on what planet is this "most interesting"? If this is one of the most interesting features of the PS4, SONY is already in big trouble.)
this is great news the PS Vita is one of my favorite systems ever right up there with the NES and Dreamcast and origional Game Boy with Tetris. The only people that have a beef with the Vita are people that have not had the opertunity to own one
Well as this is the only USP of the Wii U it seems a pretty big deal. The fact that the console and handset will be far more powerful than Nindendo's offering, with far more games and far more third party support it kind of renders the Wii U irrelevant bar it's historic franchises. It's a winner@Ergo
Posting of new comments is now locked for this page.
Polls
E3 2013
Are you excited about E3 2013?
About what?
Cannot wait!
Not bothered.
Other - Tell us in the comment after voting.
comments>>
more polls >>