Bungie Makes Spartan Helmet for Sick Nine-Year-Old After Liver Transplant
Father calls Halo maker an 'amazing company'.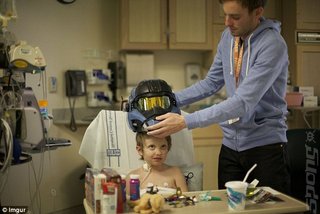 PR is often seen as a rather heartless exercise, so it's nice when some stunts are performed with a big dollop of loving empathy. Today, Bungie helped market Microsoft's Halo franchise whilst making a nine-year-old liver transplant patient incredibly happy indeed.
The sick child, who underwent the operation two weeks ago at Seattle Children's Hospital, received a Spartan helment from the Bungie Foundation, the studio's non-profit arm. They were alerted to the boy's condition when his father, known as 'fiscal_' on Reddit, reached out to them and asked if they could help suggest 'something that could get some smiles... after the transplant and some post op trauma.'
What the boy got instead was surprise to everyone. The helmet arrived, hand-delivered by the Bungie Foundation, and the fact it was a replica of Carter's helmet from
Halo: Reach
brought sheer delight.
"He was absolutely shocked when he saw [it]," the dad wrote on Reddit, posting pictures and adding that Bungie is an "amazing company."
A lovely story. Three cheers for Bungie, and we hope the boy gets well soon - he's now got a Spartan helmet to wear for all sorts of future adventures!
Source:
Reddit
(via
Daily Mail
)
Comments
Posting of new comments is now locked for this page.
Polls
E3 2013
Are you excited about E3 2013?
About what?
Cannot wait!
Not bothered.
Other - Tell us in the comment after voting.
comments>>
more polls >>