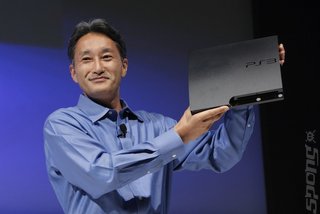 Former PlayStation executive, now Sony Corporation CEO, Kaz Hirai, has told the world that his company is on the road to a big comeback - although the process isn't going to happen overnight and there is still a lot of work to be done.
The corporation has been losing money for the last four years, with even its solid PlayStation division struggling to make ends meet at points. The result is a company that has been weakened since the launch of the PS3 as competitors such as Microsoft, Apple and Samsung eat into their margins.
But, Hirai told the
Associated Press
in Tokyo that "Sony is now more nimble and focused under his leadership," with the CEO personally overseeing some projects so good ideas do not get "held up in the bureaucracy."
However, one big bet that the company is taking - besides the next PlayStation, which Hirai did not address - is the development of 4K televisions. It is rumoured that Sony's next console will support the new TV tech, but the CEO admitted that "it could take several years or even a decade to catch on."
Overall, he sounded positive as to where Sony was heading, but added, "we need to be a lot faster in decision making. We need to be a lot faster in execution. We need to be passionate about our product. Are we perfect? No. But I think we've improved significantly."
Comments
Posting of new comments is now locked for this page.
Polls
E3 2013
Are you excited about E3 2013?
About what?
Cannot wait!
Not bothered.
Other - Tell us in the comment after voting.
comments>>
more polls >>