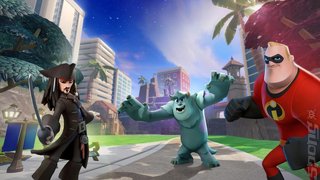 Disney has plans to muscle in on Activision's lucrative Skylanders territory, by announcing a "new interactive gaming platform" called Disney Infinity.
The game, announced via live webcast yesterday, intends to bring Disney's vast array of unique and colourful characters into one playable world. As with Skylanders, toys of Disney heroes will be sold in shops along with 'Power Discs' to place them on - doing so will expand the game's features.
Specifically, using a particular toy will call up that character's "playset" - a unique world that takes design and gameplay cues from the franchise they are based on. Customisation tools can also allow for
LittleBigPlanet
style level creation.
Disney Infinity
will be a cross-platform, global game that will arrive on consoles, PC and mobile devices in June, with three specific playsets available at launch. These packs will focus on
The Incredibles
,
Monsters Inc
and
Pirates of the Caribbean
.
Comments
Posting of new comments is now locked for this page.
Polls
E3 2013
Are you excited about E3 2013?
About what?
Cannot wait!
Not bothered.
Other - Tell us in the comment after voting.
comments>>
more polls >>