Open Source Project Brings Oculus Rift Support to Mirror's Edge, Skyrim
Half-Life 2, Portal 2 also supported.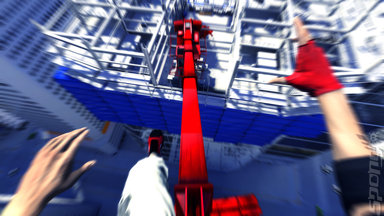 The virtual reality Oculus Rift peripheral sounds like a nice bit of kit, but without games that support it the technology will surely fail to capture the imagination of PC gamers worldwide. Well, with the help of an open source community, a toolset called Vireio Perception implements VR support for games such as Mirror's Edge and Skyrim.
Community portal
Meant to Be Seen
has a page dedicated to the toolset, which also brings Oculus Rift technology to
Left 4 Dead
,
Half-Life 2
,
Portal 2
,
DiRT 2
,
Dear Esther
and
Unreal Tournament 3
. 'Cyberreality' explains how the technology works: "Perception is basically a new stereo 3D driver with 3DOF head-tracking.
"Although only a handful of titles are supported at the moment, the experience you get with the driver is something that is not possible with current 3rd party options. In particular, it will pre-warp the image to match the Oculus Rift optics, handle custom aspect-ratios (needed for the Rift's strange 8:10 screen), and utilize full 3DOF head-tracking."
The open source nature of Vireio Perception means that more games can potentially be added over time, as more coders get to grips with its workings. What games would you like to play in virtual reality? Let us know in the usual place.
Via
RPS
Comments
Xonotic/Darkplaces/Nexuiz
Portal would be amazing with the Rift.
Polls
E3 2013
Are you excited about E3 2013?
About what?
Cannot wait!
Not bothered.
Other - Tell us in the comment after voting.
comments>>
more polls >>