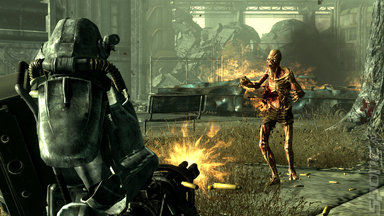 Could Bethesda have a Fallout announcement up its sleeve? Erik Todd Dellums, the voice actor behind Fallout 3 radio DJ ThreeDog, has taken to Twitter to stir up some excitement over a brand new project.
Here's the
initial tweet
that set tongues wagging: "To all my #
Fallout3
and #ThreeDog fans: There may be more of the Dog coming! Fingers crossed!" He
later revealed
that he had special permission to release that tease to the public.
Of course, any ideas as to what the new project could be is pure speculation at this point. The first thing that comes to mind is
Fallout 4
, but since Dellums doesn't specifically reference any such project it's difficult to tell. And it seems unlikely that Bethesda would work on a new DLC pack for 2008's
Fallout 3
. That's assuming that Dellums is even referring to a game...
Whatever it is, have no doubt that we'll hear word from Bethesda about it soon enough.
Comments
Posting of new comments is now locked for this page.
Polls
E3 2013
Are you excited about E3 2013?
About what?
Cannot wait!
Not bothered.
Other - Tell us in the comment after voting.
comments>>
more polls >>