Hindu 'Spokesperson' Rajan Zed Offended by Online RTS
Wants immediate removal of controllable Hindu gods.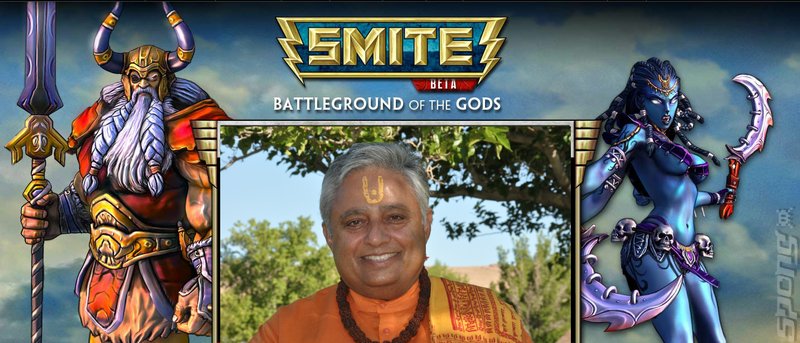 Meet Rajan Zed. He's a self-appointed "Hindu statesman" and President of the Universal Society of Hinduism in Nevada. And he doesn't like how his religion is used in popular culture. After previously speaking out against Burger King and comedy film The Love Guru, Zed's attention has turned to video games. Specifically, Hi-Rez Studio's SMITE, which features "scantily clad" Hindu gods wielding weapons.
SMITE
, in the words of the Atlanta-based developer, is described as a "free-to-play, online battleground between gods. Players choose from a selection of mythical gods, join session-based arena combat, and use custom powers and team tactics against other player-controlled gods and non-player controlled minions." It runs on the Unreal 3 engine, and
is currently in Beta
.
One such godess, Kali, is portrayed as a sexy female antagonist, holding sharp blades and wearing a rather vicious grin. It has to be said, that Hindus aren't exactly the violent type. And that's the basis of Zed's argument.
"The player would control the movements of goddess Kali and other Hindu deities, while in reality the devotees put the destinies of themselves in the hands of their deities," Zed wrote in a statement. "Reimagining Hindu scriptures and deities for commercial or other agenda [is] not okay as it hurts the devotees."
Zed continues that the inclusion of Hindu gods amounts to denigration. "Goddess Kali and other Hindu deities were meant to be worshipped in temples and home shrines and not meant to be reduced to just a "character" in a video game to be used in combat in the virtual battleground."
Although we can understand that Hindus might be offended by the inclusion of an aggressive, snarly Kali, there is some confusion as to whether Zed actually speaks for the Hindu community at large. Following his public outrage at
The Love Guru
in 2008, the 'leader' went on something of a press junket,
with many of his Hindu peers not exactly recognising his self-appointed position
.
His comments about the Mike Myers film
also attracted counter-controversy
in a similar way that the games community has reacted against Keith Vaz or Jack Thompson in the past.
SPOnG has contacted Hi-Rez Studios for comment.
Comments
I support Rajan Zed in his efforts to fight anti-Hindu propaganda. Note the developers don't include Islamic, Christian or Jewish deities. The bias couldn't be more obvious.

Who the hell is Rajan Zed? Tell this guy to go to Pakistan to join his fundamentalist brothers
Let's see if the developers have the guts to show Jesus or the Prophet Mohammed in their game. As usual the anti-Hindu bigots will only target us.

@BigOil Jesus isn't typically seen as a god, nor is Muhammad. The developers have already responded to this though, they said they have no aversion to including Abrahamic religions in the game. Do you care to logically substantiate your claim that they're "anti-Hindu bigots"? Or are you just being sensational like so many people in the comment section/loud minority can be? The characters aren't only based off Hindu gods, they're based off real-world mythological figures from numerous religions.

I don't intend to sound harsh or hurt your feelings, but when you claim such things without offering a shred of proof, you're indistinguishable from someone who has no idea what they're talking about.
Posting of new comments is now locked for this page.
Polls
E3 2013
Are you excited about E3 2013?
About what?
Cannot wait!
Not bothered.
Other - Tell us in the comment after voting.
comments>>
more polls >>