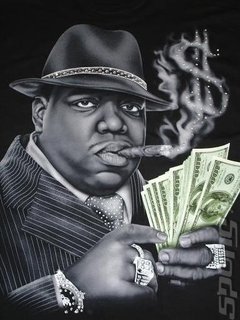 Blimey, "City National Bank says in Superior Court that it was defrauded of $14 million by Konami Corp and Autumn Games, publishers of the Def Jam Rapstar video game" says a report in Court News.
Seriously, this is not looking good if, "City National claims Konami and Autumn Games lied to secure Autumn the credit line, assuring the bank that revenue from sales of the rap-themed karaoke game would cover the loans.But the bank claims it has yet to see a dime of $14 million in loans it extended to Autumn" proves to be true.
The court documents reveal that, "After the loan was approved, the bank says, Konami and Autumn made "baseless and unrealistic projections," that "Def Jam Rapstar" would ship 2.5 million units in its first year."
This didn't happen and, in fact, Autumn drew down some $13,987,003.15 of the $15 million line of credit. As of the filing however, the "defendants still have not paid CNB a single penny of the principal amount that is due, and they continue to insist that none of the proceeds from sales of the game are owed to CNB and/or available for repayment."
Source:
Courthouse News
Comments
I can partially help you out. I know you were loonikg for video games, but how about just videos. These videos are geared towards math and memory, but maybe they'll pique his interest in other subjects too. I'm an adult and they got my attention.I was watching 20/20 a couple of months ago and they had a segment on a guy named Mike Byster. Mike has one of the fastest mathematical minds in the world according to experts. I was seriously impressed at not just how good Mike was at math, but how effectively he was able to teach grade school kids some of his methods in only an hour's time.Just to give you an example Mike would ask the kids (about 10 yrs old) "What is 61 divided by 91?" In under 5 seconds they were able to come up with the answer: .6703296, just from doing the calculation in their heads. Here's the video clip:According to his website his program can be useful from kindergarten level to adult. The program consists of 15 DVDs and workbooks. I will warn you that the full cost of the program is around $180, but once you see these sample videos and other samples from his homepage you will see that it is not only totaly worth it for your son, but you'll want to learn it too.Also, the great thing about all this is that it helps to vastly to improve memory when it comes to things that have nothing to do with math.20/20 story:20/20 8 min. segment:Mike's Math homepage (has sample videos and written samples):Another sample video:Go here to get 30% off of the total price (only good through Dec. 5, 2007):HOPE THIS HELPS!
Posting of new comments is now locked for this page.
Polls
E3 2013
Are you excited about E3 2013?
About what?
Cannot wait!
Not bothered.
Other - Tell us in the comment after voting.
comments>>
more polls >>