Sony Takes On Used Games Market with Uncharted 3 Online Pass
Back up the truck, here comes the free money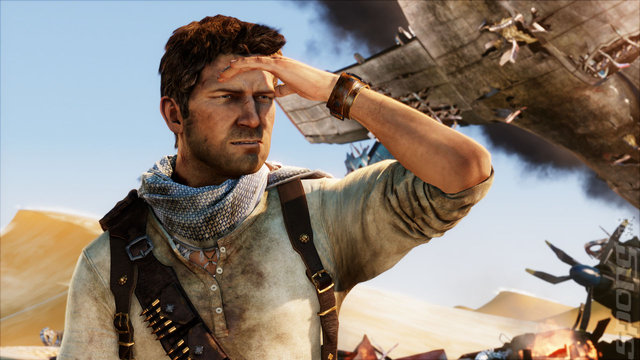 It looks like Sony has decided to take on the used games market with the announcement that Uncharted 3: Drake's Deception will be the next release to use the PSN Pass. Recently seen in Resistance 3, it's a one-off code that allows gamers access to online content; no code, no multiplayer.
Sony España's Juan Jiménez has said that the introduction of the Pass will help prevent piracy but we all know that it's down to the fact that Sony doesn't see a single penny from the second-hand games market. As the PSN Pass can also be bought for a payment of $10, it's a surefire way for Sony to cash in on those used games.
EA began the trend by introducing their own online pass in their sports games and now all their releases have the same regulations. If you pick up a used copy you need to fork out the extra money to play it online. Now Sony have seen that it works (and that it's essentially free money) it won't be a surprise if the PSN Pass is included in all first-party titles from here on out
It'll be interesting to see how the used market reacts, as well as companies who rent games out such as Lovefilm or Blockbuster. Will people be happy paying the same prices for a stripped down version of a game? Could this maybe even see an increase in sales of new games?
Source:
Joystiq
(from
The Vault
)
Comments
Is the multiplayer worth $10?
It won't see an increase in sales from me.

I don't object to buying a new version, but making a preowned version cost more isn't more likely to make me buy the new version instead, it's only less likely to make me buy the second hand version.
Surely this will.just kill the multiplayer sections of any involved games that aren't call of duty or fifa. In my case, i'll just wait that little bit longer until the second hand price inevitably does hit the price i'm willing to pay.
DJFury wrote:
i'll just wait that little bit longer until the second hand price inevitably does hit the price i'm willing to pay.
For me, It's not that big an issue, since eI'm more of a single player gamer. But I know it's a big deal for a lot of people.
I'm sure the publishers will be fine if it does depress pre-owned prices, or makes you wait longer to buy the game second hand. It still means more money in the publisher's pocket, and less in GameStation's - which is what they are wanting.
We should just boycott this trend and refuse to buy any games that try to pull this kind of bullshit. I for one will make it a point *not* to buy new. I'll just buy the pre-owned game for 10$ cheaper now. Companies selling pre-owned will have no choice but to drop there prices by 10$ which is fine by me, since I don't much care about the multi-player content anyway.
Posting of new comments is now locked for this page.
Polls
E3 2013
Are you excited about E3 2013?
About what?
Cannot wait!
Not bothered.
Other - Tell us in the comment after voting.
comments>>
more polls >>