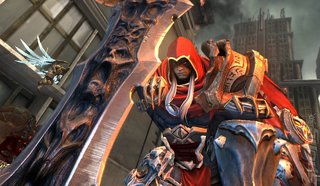 Darksiders' creator (as well as X-Men and Battle Chasers' maker) Joe Madureira has admitted that the apocalypse-riding game won't be getting DLC or multi-player because developer Vigil couldn't make either brilliant.
Joe 'Mad' was speaking in an interview today (
full thing here
), in which he said:
"We realised early on that we wouldn't be able to pull off the scope of game we wanted to and have it be multiplayer. We were a new team building new tech and a new IP. We had our work cut out for us.
"Vigil has a very strong all-or-nothing mentality, and if we're not confident we can pull it off, we're not doing it. So we focused on making the most kick-ass single-player game possible."
As for DLC, "Sorry, we aren't currently planning any DLC content for
Darksiders
."
He also brings his comic-book writing background to the fore for game development and publishing, "Until recently there wasn't that much emphasis on game stories. It's not what sells a game - it's all about the gameplay. Comics still produce fantastic stories, it's still one of the purest visual storytelling mediums, which is why it still makes such an impact."
All is not quite so dour though, despite the fact that "most game stories stink" Mr 'Mad' states that "It's an exciting industry and I love being a part of it, though of course I do miss comics".
Our
Darksiders
review will be up and around a little later... by Mark "Comic Book Man" SPOnG.
Comments
I'm glad there is no multi-player. Why does every game have to have MP? I'm anti-social, people suck in general so no MP or gay co-op is fine with me.
i only buy games with online multiplayer, I have plenty of games that i have never even started the campaign mode
@Shax agreed mate....wudn't fit the war character if he had sm1 helping him out...he's definately a lone wolf
Polls
E3 2013
Are you excited about E3 2013?
About what?
Cannot wait!
Not bothered.
Other - Tell us in the comment after voting.
comments>>
more polls >>