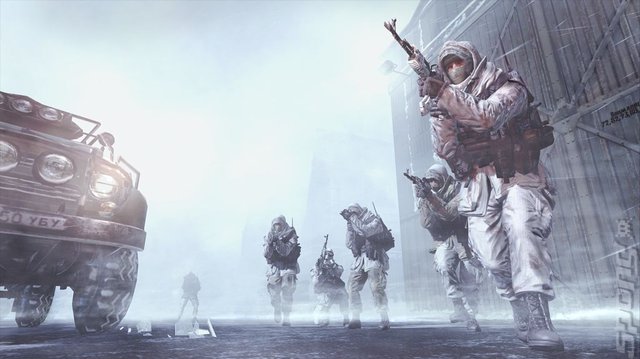 Oh, cheat (or 'cheaters'). Will they ever learn? Infinity Ward has just slammed the ban-hammer on some 2,500 PC players, as
Modern Warfare 2
experiences a surge of questionable activity online. The news comes from Community Manager Robert Bowling's
Twitter account
.
The developer caused controversy a while ago when it announced it was removing support for dedicated servers in favour of its IW.net service for online multiplayer. The benefits were to include a tighter grip on cheating accounts and a more reliable networking experience.
Specifically, Steam's VAC anti-cheat system is in place for abusers of the PC version, and this news is either proof that the setup is proving more efficient for catching cheaters, or proof that even with this arrangement Infinity Ward still can't get rid of the cheating problem.
How has the online experience been for you,
MW2
PC players? Let us know in the comments section.
Comments
its freking retarded iwnet is f**king dumb ur so useless i could make a better anti cheat system blind dumb and deaf
i'm a regular mw2 player and there are so many hackers in the f**king game it's so frustrating u buy a game to vs people not a wall hacker i regret buying the c**t
Like everybody here i'm very angry about the situation, please IW remember that we are the customers who brings money, if nobody does anything about those hackers, simply adding the voteban or votekick option, I swear I will never buy any more games from you. I feel humiliated by all those hackers, and they disgusted me from this game. Why haven't you patched that? the gameplay and graphics are awesome but allowing hackers ruins it all.... Please take immediate action!
the effing exp hacks can ruin the game for everyone in a room with the damn hacker. i got leveled up from a room with an exp hacker... and ill probably get banned now. f**k you infinity ward. you suck balls.
I agree these fu***ng litle wa**ers need to be booted or give us our money back bunch of tossers
TO SOLVE THE PROBLEM WHY DONT YOU SOMEHOW PUT ALL THE HACKERS IN THERE OWN SEPERATE GAME TO SLAUGHTER EACH OTHER, AND ALLOW NON CHEATERS TO ENJOY THE GAME. I MYSELF DONT PLAY AS MUCH ANYMORE, ITS RIDICULOUS WHEN THEY RUN RIGHT THROUGH YOU, LIKE YOUR STILL RANKED AS A PRIVATE OR SOMETHING....HOPEFULLY THEY FIX THE PROBLEMS, BEFORE NOVEMBERS RELEASE OF BLACK OPs , OR THIS WILL PROBABLY EFFECT THE SALE OF IT.
It's to the point where it's very rare to join a game that's not being hacked. I agree- refund my money if you won't fix it ! It just p***es me off to even try to play it anymore. I'm ready to get a hack myself just to level the playing field !
JohnnyWalker wrote:

>The pc version is horrible. With the lack of
>dedicated servers and alot of the lag issues, the
>game is getting worse and worse. Then you run
>into the Aimbotters over and over again makes me
>really doubt the power of IWnet. Give the power
>to the players....there we can boot cheaters and
>hackers. I have seen the same aimbotter everyday
>for the past month Manbearpig. Obviously IW isnt
>trying too hard fighting the hackers.


It's June now and that asshat is still on there. So much for Steam kicking hackers !

In every server you join it's atleast 1 or more hackers. When are IW going to do something about it???? 2 words Bad support ! How could this game be even releasted? It's MultiPlayer SUX!!!
found a hacker today, recorded the whole match, going to post up on youtube. heres his steam id, if we all mass report, maybe someone can do something.
http://steamcommunity.com/profiles/76561198016325450/
i consider myself to be one of the modern warfare 2 greats, owning those noob hackers without cheats or modifications, but its just retarted to know no1 is going to ban them, that i have to struggle against people that cant even play and have little to no skill at all, i currently have a 1100 winstreak for only playing FFA and a number of those times i've nearly lost it due to sh*t C*nts that have little to no skill. I Get called a hacker every game without fail, i take it as a compliment, i must be that good that people think i have a computer program helping me, but the real hackers continue to ruin the game...
I've been playing MW2 since it came out. To be honest I have had to stop playing the game due to people just plan ole hacking or cheating. Just tonight i thought i might give it another chance, forked out the 15 bones to get the new maps played for about 10 mins and had to turn it off. The amount of ppl cheating MW2 PC online is retarted. If it's not a locator is an aimbot if it's not that there wall hacking or doing some crazy super jump thing.
Steam anti cheat thing sucks ass. Peer reporting doesn't work. Nothing gets done.
I actually took the time tonight to call Activision and complain about their product. I really can't get over how bad it has gotten. I can cheat but i don't want to .. i want to play the game like it use to be... actually be competitive with it again. But untill then i'm going back to COD4. MW2 and go f**k a duck... till this issue gets fixed.

SO Please do somthing PPL!.. .OMG!!!!!!!!!!
Why are you people asking for refunds...?
Fact of the matter is, hacking
CAN'T
be fixed. No matter how many people VAC bans, there will always be more idiots willing and able to hack.
And also, MW2 came out a long time ago, its your fault you didn't take the time to look at the steam forums (to see player comments etc.) before buying the game.
@Casca i say dont give the players the power to kick or ban. we know most of the players in this game are kids, and kids dont know how to take decisions. Me for example, i have been playing this game since it went out on the market, and despite the fact that the servers are awful, we even run into these "smart" dudes that use wall hack or aimbot. These guys are incredible, i dont even know why the hell they bought the game, theres no sense if u cheat. another problem i was disturbed about is these people that think they can spot a hacker, even if the guy might just be a good player, they report him and this guys account ends up being banned and u can say goodbye to the money that u gave for this game. Me for example, i have been banned 3 times with 3 different accounts, and why, because kids run this game, and if a kid says ur a hacker, then everyone will say the same thing. dont leave anything in kids hands, they will make this game even more boring than cheaters make it! or at least create some anti-cheat program that kicks and bans players that really cheat, and stop these f**king kids banning us all, im tired of getting kicked and banned just because i know how to play this game!
Another thing, if u dont know how to play this game, dont act as an expert and tell everybody that the player with the most kills is a hacker. if u wanna play the game, play it, if u wanna find a new life, u are really looking in the wrong place!
@Anonymous no way its our fault for not reading forums!!! You buy a game in Wal Mart and it has nothing on the box about reading forums. If there was a disclaimer saying something about all the cheaters and hackers then fine but there is nothing of the sort. Dont stick up for a company who basically used a good name to sell a bad product, made millions, and then hides in the corner with no support to their customers. A law team should get involved and sue the piss out of the designers

2500 is an awfully small number compared to all the other hackers out there. If there is one thing that is still very true, its the fact that that the game is still full of hackers and that who ever has the best hacks, wins. Steam's fail valve anticheat failware delay ban useless sh1t really does nothing to prevent hacking. All it does is just advertise games to buy. Nothing more, nothing less.
@Jacko
Totaly agree, Infinity award advertised this game as being a good online, and cheat free zone, they have not come through with this, to me thats false advertising and i think we should get out money back.
If they were forced to give the money back, i bet they would come up with a solution pretty quick
i just got a letter in the mail today on my ps3 saying "nice cheats asshole",..... In astonishment I replied back to him what cheats? Everytime you get on a modded game they are ranking you up and you can't do anything about it! So I just rolled with the punches! If your inabled to beat them leave the lobby simple as that stop crying to everybody about it. Just join another game. This letter was very unexpected considering I'm not a hacker or cheat! I just got caught up in a modded game and it happened. So if you ant take the heat get out of the kitchen!! Enough said
i had just played MW2 aginst a WH (wall hacker) and it was f**ked and i realy want to know if there is any way i can report him as cheater/hacker
the best part is that i have recorded the kill cams and evrybody can see that he are using WH
Polls
E3 2013
Are you excited about E3 2013?
About what?
Cannot wait!
Not bothered.
Other - Tell us in the comment after voting.
comments>>
more polls >>