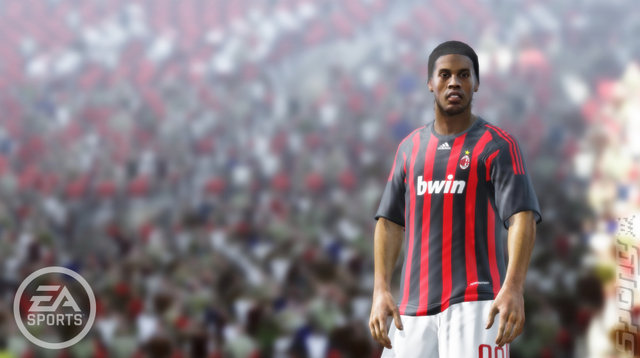 Watch out Konami. According to the UK All Formats chart that remain copyright ELSPA, and collated by Chart-Track, this is the most successful
FIFA
launch in the history of
FIFA
launches.
FIFA 10
has beaten it's 09 equivalent by nearly 50%. This is not simply big for EA's series of soccer games, it also places the game as the second most successful UK launch ever, behind
GTA IV
.
Says Chart-Track: "As with last yearís FIFA, Xbox 360ís share is 2 percentage points more than PS3 as Microsoftís format generates 48% of sales, PS3 46% with 6% on the remaining formats). Ď
FIFA 09
í sold 42% on Xbox 360 and 40% on PS3 in its launch week, with the remaining formats securing a much larger 18% share. The Xbox 360 and PS3 versions are now respectively the 5th and 6th fastest selling single format releases."
The rest of the chart pales into comparative insignificance really with some shuffling going on and
MySims
re-entering the chart at Number 7. Frankly, however, as a publisher with any sense you would not be launching against
FIFA 10
.
The Chart - Last Week's Position in brackets
(NE) -
1
-
FIFA 10
- EA Sports
(2) -
2
-
Professor Layton And Pandora's Box
- Nintendo
(1) -
3
-
Halo 3: ODST
- Microsoft
(3) -
4
-
Need For Speed: Shift
- EA Games
(5) -
5
-
Wii Sports Resort
- Nintendo
(4) -
6
-
Guitar Hero 5
- Redoctane
(16) -
7
-
MySims Agents
- EA Games
(8) -
8
-
Colin McRae: Dirt 2
- Codemasters
(12) -
9
-
Mario Kart Wii
- Nintendo
(6) -
10
-
Batman: Arkham Asylum
- Eidos
Comments
And so it should. FIFA is one of those games Iím happy to buy every year as I know Iíll be playing it for another year non-stop. Iím not even cheesed off I paid £40 from game instead of queuing a supermarket.

I just wish they would work on some small changes like Juventus playing at a smaller stadium rather than the Delle Alpi which they left two season ago. Itís the little things EA.

Very good sales by EA but it was obviously helped by the £25 price point at all supermarkets. Maybe there's a good argument for the "if it was cheaper more people would" buy it brigade. Are you watching Activision?
@PaulRayment

haha, queues at supermarkets? yeah yeah, one guy in front of me in the entertainment section, 25 quid, result.
I wouldn't pay £40 for Fifas 10. Then again I only own a wii so we get fobbed of with a poor version
Notnhig I could say would give you undue credit for this story.
Posting of new comments is now locked for this page.
Polls
E3 2013
Are you excited about E3 2013?
About what?
Cannot wait!
Not bothered.
Other - Tell us in the comment after voting.
comments>>
more polls >>