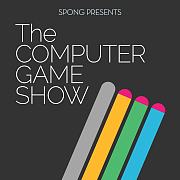 The Computer Game Show is a podcast about Computer Games.

Join David Turner, Sean Bell, Mat Murray and James Farley as they discuss the latest news from the world of gaming along with what games they've been playing during the week. They also answer questions sent in from you, the listener making it the perfect ear fodder for those of you that enjoy podcasts and computer games.
Music by Nick Parton
Artwork by BigShimmeryWall
11/Jul/2018
and it?s coming home
There was a problem loading this page
An error in the SPOnG system has stop this page from being displayed. Please try again later.
An error occured while processing your request.