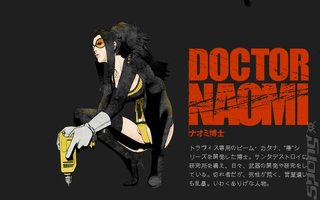 SPOnG:
That was
Super Fire Pro Wrestling Special
wasn?t it? You were the scenario writer that made the hero commit suicide at the end of the game! As a first piece of work that?s pretty shocking for a story ending ? do you feel that a shock factor is necessary to engage with the player?
SUDA51:
I think the shocking ending scenes were necessary really. In the story you had many different fighters to beat in order to gain experience, but at the end of it all there is nothing left for him. At first I was undecided whether to have a good ending or a bad ending for this game. There were many happy scenes along the course of the game, and I don?t like games with a completely wholesome good ending. So, I decided to kill him [laughs].
In terms of general video game story development, I really like to make games with a solid story. The same as with movies or books, the creators or writers are free to do whatever they want with their stories and I don?t want to make the same kind of Japanese fantasy plot lines. And I want to write stuff for adults as well, so that they can enjoy games too.
SPOnG:
It?s been said that
No More Heroes
is going to be tackling some social issues? I?m curious as to what these are. Any hints?
SUDA51:
In
Killer 7
there were several social and political issues that were raised, but with
No More Heroes
there isn?t anything like that. There aren?t any social issues whatsoever in this one! [Laughs] It?s really just a nasty, gung-ho, fun action game that you?re just meant to dive into and mess around in.
SPOnG:
Well, you can?t say fairer than that. Another difference is that
No More Heroes
takes a sandbox adventure style approach. The problem with these kinds of games is that sometimes they have pretty boring side quests. Will
No More Heroes
have sufficiently un-boring missions?
SUDA51:
Well I hope so! [Laughs] The main character, Travis, is a bit of an upstart, trying to be like a hero of the nation or something. And because there are all these territories to take out and you have no money to start off with to fund things, you?re basically starting from zero. So, I guess the hero within him comes out in the side-quests because he does a part time job for people, like taking out garbage or cutting the lawn and things like that. He has to earn his money once he gets involved with the main story quest.
SPOnG:
You mentioned a while ago that
No More Heroes
is going to be more violent than
Manhunt 2
. Are you still going to carry out this threat of yours?
SUDA51:
[Laughs] Well, we still don?t know if
Manhunt 2
is going to be released or not, but actually we?re looking forward to it. The violence won?t be the same kind of graphical violence that you may see in
Manhunt 2
anyway, because it?s more of a cartoon-esque violence whereas in
Manhunt 2
it?s really real and lifelike. So, it won?t be the same level of violence regardless.
Yeah, I don?t think
No More Heroes
will be as violent as
Manhunt 2
, it?s still right up there. It?s the one to beat!