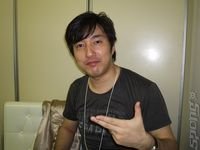 I'll be honest. I'm sitting right smack in the middle of the Tokyo Game Show and, despite all of the games on display, there are two Wii games that stand out for me. One is
NiGHTS
because you know, SEGA fanboy o'er here. But the very first thing on my mind was Grasshopper Manufacture's
No More Heroes
, a game that will finally give the waggle-tastic Nintendo console the thing it's looking for – a game.
Sure we have Nintendo's own
Mario Galaxy
and
Metroid Prime 3
to look forward to (not to mention
Smash Bros.
). So, it's just as well then, that
No More Heroes
looks (and plays – tee hee) like an absolute corker of a game – and from the same creative geniuses behind
Killer 7
too. How much more cult could you get?
I managed to wrestle a bull, fight three monkeys and race an otter to be able to speak to the game designer of
No More Heroes
, Goichi Suda – better known as SUDA51. It was totally worth it. Read on…
SPOnG:
Suda-san, thank you very much for joining me this morning. First of all could I just get a quick introduction on your career? What got you into video games and what was your first project?
SUDA51:
Hi, I'm the director of
No More Heroes
, I'm basically in control of the scenarios and the game design – I'm also the CEO of Grasshopper Manufacture, which was established in 1998. Before that I've been working on titles for specifically the Japanese market, but since working on
Killer 7
I've wanted to make more action titles, which is how I came up with
No More Heroes
. People often say that the work I'm doing now appeals more to the European and US market than the Japanese market – so that's why at TGS I'm doing interviews with mostly Western press! There isn't that much interest from Japanese press [laughs].
SPOnG:
Was there any particular video game or point in time that made you want to chase a career in games development?
SUDA51:
Ahhhhhh… [pauses for thought]. I started in the industry by making Pro Wrestling video games. There's a classic Japanese series called
Fire Pro Wrestling
, which was developed by Human back then. In 1994 I worked on the third instalment of the series, which I enjoyed because I'm a big fan of Pro Wrestling! Working on that title was the reason why I wanted to join the video games industry.