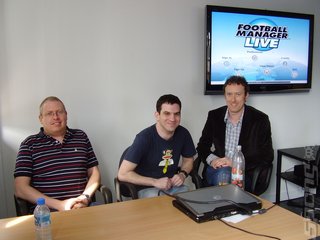 SPOnG:
And the money side?
MJ:
The finance system has been completely overhauled. So, if you had a million quid in the transfer budget, but you didn't have any wage budget left to spend in the old game, it was kind of useless. Now, you can take some of your transfer budget and put it into your wage budget, and vice-versa, so there's a lot more flexibility.
There are little things in there like fan days – for those of us who support smaller teams, you often get games during the season at which the board expects lower attendance, so they might do Kids For A Quid, or let season ticket holders bring someone else in for half price. If the team do really well that day, you'll get higher attendances for the rest of the season.
Another really big thing is confidence. Before, you just had: "The board are happy with you/ the board are not happy - you might get the sack if you don't win." Now, it's split up into sections for the board, supporters and media. So, the supporters will comment on every single signing you make, throughout that player's first season. Even if you've won the match, they can still say that they didn't think you performed very well during the match, so it absorbs you more into the world.
SPOnG:
Which pundits are you using in Match Flow?
MJ:
We haven't got any name pundits in there. There are many different styles of pundit, which people might recognise, but they are taken from across the whole of the European football world, not just England. We have a pundit working at our place – Ray Houghton – which helps us with things like that. But the different styles are important – particularly when people get things wrong. If someone predicts that I'm going to get tonked by someone and I end up winning, some pundits will say it was a shock result, and others will try to make excuses.
SPOnG:
Have you worked on the differences between the PC/Mac version and the console versions?
MJ:
The PC/Mac version is coming out before Christmas, and
FMH
– the handheld game on PSP – will be out before Christmas, although we don't know exactly when yet. We'll start talking about that in a month or so. The Xbox 360 version will be out slightly later, because we need to more work on the game, making it easier for people to control. So, we're going to take our time and make sure we get it spot-on. I think last year's version was much better than the previous one, in terms of its control method, but we haven't gone far enough, so we're going to concentrate on that a little bit longer. Thankfully, SEGA have given us full support.
SPOnG:
Are you not bothering with a PS3 version?
MJ:
Football Manager 2008
will not be on PS3.
SPOnG:
What about the Wii? Because that has a decent installed base.
MJ:
It's nothing to do with the installed base – the Wii definitely isn't
FM2008
. I think the Wii audience is slightly different to the Xbox 360/PS3 audience, so if we were going to do something on Wii, we'd do something a little bit different. And I feel the same way about the DS and the PSP – I think they've got slightly different audiences. The PS3 we're looking at – but we just haven't pressed the button to start on it.
SPOnG:
How is
Football Manager Live
going?
MJ:
The beta so far has been a pretty big success – we're getting really good feedback from people. We actually changed the whole transfer/wage auction system in the game this week, just as an experiment to see if it worked, based on feedback we've been getting. And it hasn't worked perfectly, so we'll do something else with the next roll-out next week. But people seem to be really enjoying it. It will be out before the end of the financial year, which is March.