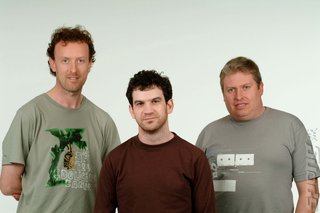 Sports Interactive managing director Miles Jacobson is, I'm not remotely ashamed to admit, one of SPOnG's favourite men in the games industry. A thoroughly engaging chap, he's always liked to do things a bit differently, and the latest example of that was when he threw an evening barbecue at his recently completed new house, to announce
Football Manager 2008
's new features to a selected band of journos. Naturally, we were there, and after we'd admired Miles' awesome North London bachelor pad (highlights include a steam-room in the garden and a self-drying bath which, Miles was at pains to point out, was installed by the previous owner), I grabbed him for an interview. This is what he said.
SPOnG:
So, what is new in
Football Manager 2008
?
Miles Jacobson: As always, we've piled a lot in – there are over 100 new features. But we've looked at the game this year in two different ways. We did a lot of usability studies last year, which is something we haven't really done before – with both new users and experienced users. Some of the team have been concentrating on improving the game for new users, so there are a lot of changes in the interface – it's a lot cleaner and easier to use.
We've also added an Advisor system which is a little bit like that paperclip in Microsoft Word, but not as annoying. If you're stuck on a screen for an amount of time, it will try to work out what you're trying to do, and then say: "Are you trying to do this?". You can click on it and, if you are trying to do what it suggests, it will make the buttons flash, showing where you need to go. There are also a lot more buttons on news items – because with a lot of the features in the game, like referee league tables, people don't know they're there.
SPOnG:
Are you carrying on with the hints and tips?
MJ:
We'll keep the hints and tips, and they'll be added to a lot. The tutorial is still there, and we're completely rewriting the manual. We're just trying to get rid of people saying that the game is too in-depth for them, because it isn't – anyone can play the game.
Obviously, we've got to do work for established players as well, so we've added in a new system called Match Flow. Some of the feedback that we had regarding the actual match-day experience was that it was just match-day; there was no experience to it. So we spent a lot of time watching TV broadcasts from across Europe, seeing how they do football TV. And we've ripped off a load of that, basically.
The reason it's called Match Flow is that it all flows, so you'll start with a media pundit giving a comment on what they think is going to happen during the game, plus the betting odds, any milestones that are going to happen. Then it goes through picking the team, the team-talk, opposition instructions. When you go into the actual game, whereas before you've been able to press the Tactics button, so it goes into Tactics and the game pauses, in real life, managers do not get a chance to have time-outs. So, what we've done is made it so that when you press the Tactics button, you're changing things on-the-fly – which you could do before with Quick Tactics – but it now puts a little radar screen showing the pitch on the Tactics screen, so when you're making changes, you can still see what's going on in the game.
We've completely revamped international management, because it just wasn't good enough – there wasn't enough stuff for people to do. We've added things such as being able to watch other matches, and your assistant manager will recommend which players you should watch that week. And there's international scouting. One of the reasons we did this is that every time Steve McLaren or Sven- Goran Eriksson was at a game of football, the cameras would pan to them on Match of the Day. So, in the commentary of matches, it will say: "And the England manager is here today – we think he's watching this player." It's touches like that which have made our game so good. You can call up a player if he can qualify for dual nationality and hasn't played international football for another team.