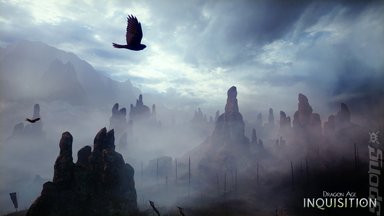 It's now nearly a year since the end of last year, which means that for many whose phone operating systems use the Gregorian calendar, it's a time for reflection. Or, you know, to talk about our favourite games of 2014. Here's SPOnG regular, Shane...
I love deep RPGs. I don't necessarily mean exhaustive stat-balancing, but give me solid character development, a loveable rogues gallery of companions and some unnamed cavern to explore and I am a happy man.
Dragon Age Inquisition
delivers all of these and more. BioWare has outdone itself with this massive, beautiful game that manages to make the individual companion story arcs as important as the main storyline.
Several times I had to just sit back and stare aghast as the game forced me to make a decision I knew would destroy me emotionally, other times I would go and stand quietly in a corner of the tavern and listen to Maryden the minstrel sing, some of those songs alone are reason enough to crown Dragon Age as Game of The Year.
I rarely crave DLC, but now that I've finished the game I need to know what happens next. I just hope they go the route of making a proper expansion - like
Awakenings
was to
Dragon Age: Origins
.
Honourable mentions go to
Child of Light
and
Transistor
, both of them amazing, smaller games with some of the best music to be found in gaming,
Transistor
's developers Supergiant also put the soundtrack up on YouTube for our listening pleasure, head
HERE
to give your ear-holes a late Christmas present.