UPDATE: The problems described in this article have been fixed. Read the forum posts below to find out how.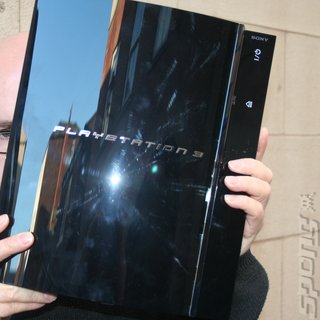 OK, before I start, this is not a bash or rant at Sony, I've had nothing but good times with my PS3 until this incident and everybody I have spoken to about the problem has been understanding and professional. I'm not trying to start a flame war about reliability or which console is best. What I'm doing here is putting down what happened to me so that if someone else has the same problem, they might be able to use my experiences to help themselves.
As you probably know if you follow these things, Tuesday September 1st saw the release of PS3 firmware 3.00 with all sorts of wizzy (and not so wizzy) features. Since I had heard nothing to indicate I shouldn't do so, I set my UK launch 60GB upgrading on the evening of the 1st. Since I was late home that evening, I left it running, expecting to take a look at the changes the next day.
The next evening, I took a look at my PS3 to find that all I could get out of it was a black screen and that my controllers wouldn't connect. I tried my original Sixaxis and my official UK DualShock 3 both wirelessly and with the USB cable. All I got was all four controller lights flashing for a couple of seconds and then going out. I couldn't even get that out of them twice without restarting the PS3. Again, it was late and I resolved to try and fix things later.
On Thursday I had to go on a trip to London that saw me get back at half ten and I was too knackered to start and do anything. Similarly, Friday saw nothing done. So it was Saturday before I could try and do anything to fix the situation. I tried restarting, resetting (hold down power for two bleeps) from standby. I tried HDMI and composite. Nothing worked.
I found out about "safe mode" on the PlayStation FAQs. Safe mode involves, from standby, holding the power button for three bleeps (approx 10 seconds) which turns the console on and then off again, then holding the power button for two widely spaced bleeps and two closely spaced bleeps (approx 7 seconds). This should bring up a menu where you can perform some system-related operations such as restoring the file system, rebuilding the database, etc. Even this low-level menu wouldn't appear for me.
I spent most of Saturday trying various combinations of things, even removing the HDD to see if that would help. All to no avail. I posted a message on the PlayStation Technical Help forum and gave up for the weekend. I resolved that if I got no reply by Monday, I'd give Sony a bell to see what my chances of getting a repair were.
Monday came around with no reply to my posting, although it had 20 or so reads by then, so I called the PlayStation Careline. The guy I spoke to was obviously reading from a script to start with, but after I went through what I had tried, he loosened up and started chatting, suggesting things and getting advice from other people there.
Since I was ringing from work, I didn't have my PS3 in front of me to run through his suggestions, but I'd already tried them all in any case. I found out that Sony didn't offer a repair service for the issue I was seeing and that a replacement PS3 would be a refurbishment, cost me £128 and that I would lose my save files. I opened a support ticket and said I'd ring back when I was in front of my PS3 and make a decision about a replacement then.
That evening, I resolved to try a couple of other things to see if I could figure out if it was my hardware at fault or something on the hard drive. Since I'd previously tried starting up without the HDD installed, I wasn't hopeful, but I took the office retail PS3 and a USB stick with firmware 3.00 on it home on the off chance that I could get something sorted out.
The first thing I tried was to restart my PS3 with the USB stick attached, hoping that it would be re-installed and everything would be nice. However, predictably, this didn't happen.