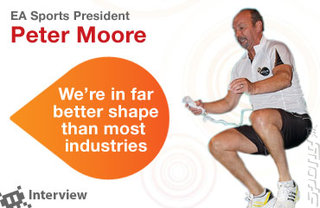 EA Sports President Peter Moore is a man who needs little introduction, at least for keen followers of the games industry. Having spent many years heading SEGA of America, he moved to Microsoft in 2003 (luxuriating in the job title VP of Interactive Entertainment), before becoming EA Sports? head honcho in 2007. Originally a PE teacher from Liverpool, he?s another one of those Brits who made it to the top of the games industry in the US.
Happily, he retains his British urbanity, and is always up for a bit of showmanship, appearing on stage at EA?s GamesCom press conference with the universally fancied German figure-skater Katarina Witt. He?s also renowned for telling it like it is. When we caught up with him he talked plenty of common sense about the future of sports games, the implications of Project Natal, the state of the industry during the credit crunch and console cycles present and future.
Peter Moore on his new specialist subject: sports games:
SPOnG:
You recently said that you?ve cracked the more casual market as far as sports games are concerned?
PM:
As usual, somebody paraphrased me. What I actually said was that we?re making a lot more progress with the broader consumer. EA took great pride... we had 21 per cent market share last quarter on the Wii. That was almost exclusively driven by
EA Sports Active
,
Tiger Woods
and
Grand Slam Tennis
. While I don?t necessarily see that as a direct correlation to cracking the more casual gamer, I see it at least as an indication that we?re making progress on that platform, which has been a little bit of a challenge for us in previous years.
SPOnG:
Sports games are graphics-intensive, which isn?t good for the Wii, but then you have the Wiimote. Would you say that the Wii is now gaining credibility as a platform for sports games?
PM:
Absolutely. Our core franchises are really starting to be part and parcel of the Wii as they are on the PS3 and Xbox 360. And also with EA Sports Active, where I think we made the most progress, we?ve learnt to put new experiences and new intellectual property on there. It?s not necessarily a classic sports game, but it takes advantage of the controller and is able to bring that motion to life.
SPOnG:
And you?ve got the next version of EA Sports Active coming out in November. That?s something you could get going on a short cycle, isn?t it?
PM:
We?ve been working on it for a while: the plan was to have it ready for this holiday season as a classic expansion pack. But we won?t short-change the development cycle. Yeah, we?ll get into a rhythm eventually where we?ll have some new stuff on a more regular basis, but we don?t want to shoot ourselves in the foot and put something out that?s sub-standard.
Peter Moore on FIFA 10 (and PES)
SPOnG:
And
FIFA 10
is coming up.
FIFA 09
, for the first time in years, gave
PES
a run for its money. Will
FIFA 10
beat
PES
this year?
PM:
Well, I haven?t had my hands on
PES
. Our team certainly hasn?t taken its foot off the gas, and is building innovation and continuing to polish the experience. I would be incredibly surprised if it didn?t continue to see very strong sales and, at the very least, maintain the market share lead we currently have on
Pro Evolution Soccer
. But at the same time we do not, under any circumstances, underestimate the challenge that Konami offers with its very talented team back in Japan that has developed a great game for many years.